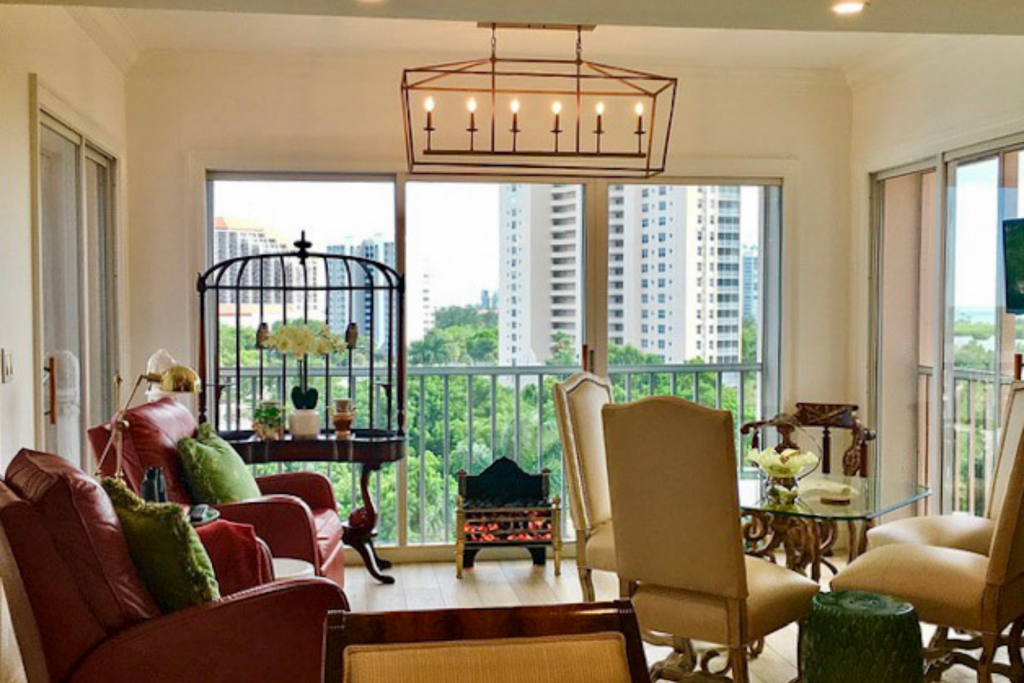 Bonnie Lynch—Making Her Home Her Own
Bonnie Lynch loves where she lives. At The Glenview at Pelican Bay, we would have it no other way. Even if it involves moving a few walls and total renovation during a pandemic. This is Bonnie's moving story. For this Glenview residence spotlight, let's start at the beginning.
Familiarity and Beach Activity
Bonnie became a new resident of The Glenview on July 14, 2020. However, The Glenview was not new to her. "My mother was one of the first residents to move here in 1992," Bonnie says. "My residence was previously owned by [my] mother's good friend, Sally Iredale. I feel they're now both looking down on me, smiling and saying 'Welcome to The Glenview, Bonnie.' The familiarity has been very comforting to me."
After living on the beach in south Naples for 15 years and raising a family of three children until the early 1990s, Bonnie shares that she wanted to simplify her life. She wanted to free herself from home maintenance and satisfy her longing for a Gulf view again. "The Glenview has provided me the opportunity to capture the magnificent view once more of boaters and sailors," she says, "with the added view of Clam Pass and watching people on paddleboards, canoes, and kayaks."
Bonnie tells that she researched other Naples area communities online, but never did visit them as their healthcare offerings did not compare to The Glenview's LifeCare offering.
The Bonnie Touch
Interior design has always been a passion for Bonnie who says she saw great potential for a trendy, but cozy, update to the Beachwalk residence she purchased. "Krisandra introduced me to Fred Pascucci, of Cotter Construction, who brought my design ideas to life and made my dream come true," Bonnie says. As an equity owner, she closed on her residence on February 1 and renovations began immediately. Bonnie's design plans involved gutting the residence to the walls and even removing some.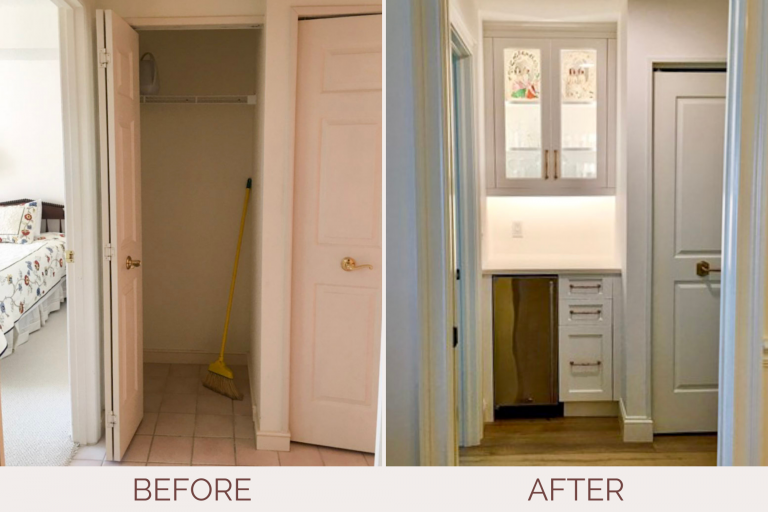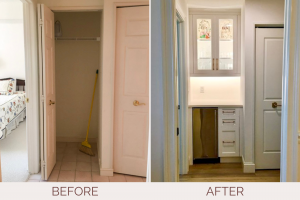 "Fred and his assistant Eli—hardworking and easy-going—did almost all of the work with only a few sub-contractors," says Bonnie. "We all suffered through the pandemic, two and a half months of stressful lockdowns, and a total of five and a half months of work to barely get my apartment completed by moving day. Workers were still cleaning up construction debris when I moved in on July 14."
Bonnie loves everything about her newly renovated Beachwalk apartment. When it came to making her residence at The Glenview the perfect home for the lifestyle she wanted, there were particular features Bonnie wanted to incorporate for entertaining. "When I invite a large group to my home, I like to have seating for everyone in my living room," she says. "I can now accommodate seven guests sitting at the end of the living room overlooking Clam Pass, and eight in the middle to the opposite end of the living room. That's 15, and it works beautifully."
Room for overnight guests was also important to Bonnie. So, she re-configured the spacious closet in the study into a storage room and furnished the room with a sleeper sofa and an armoire for clothing. Photos accompanying this story will show the before and after of several areas in Bonnie's new home.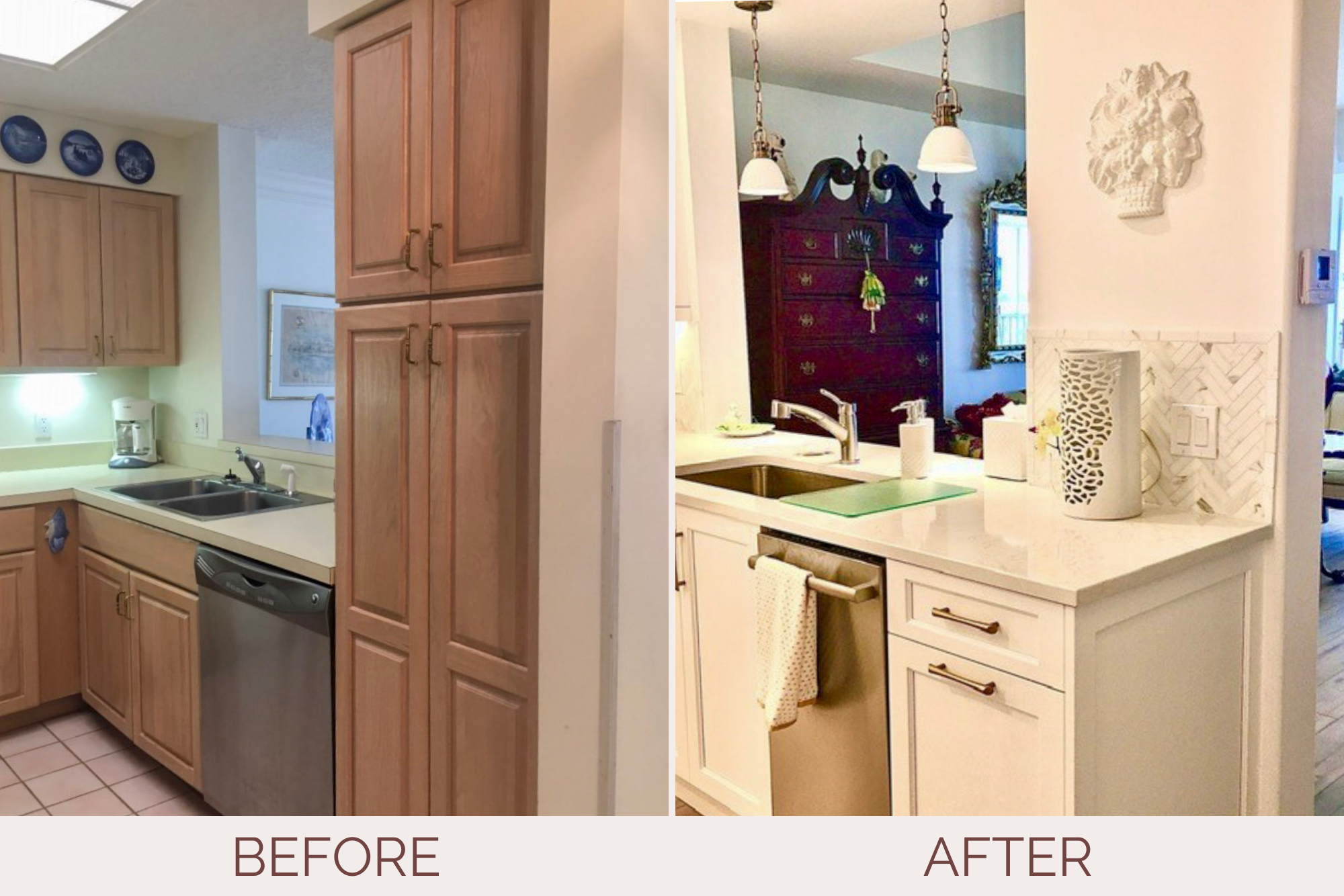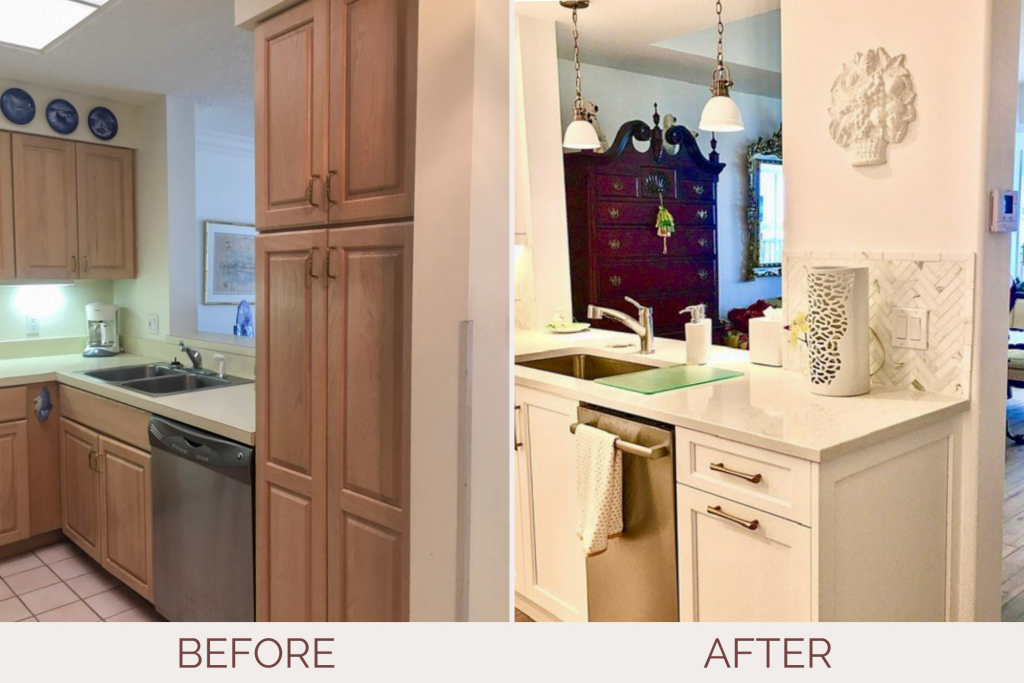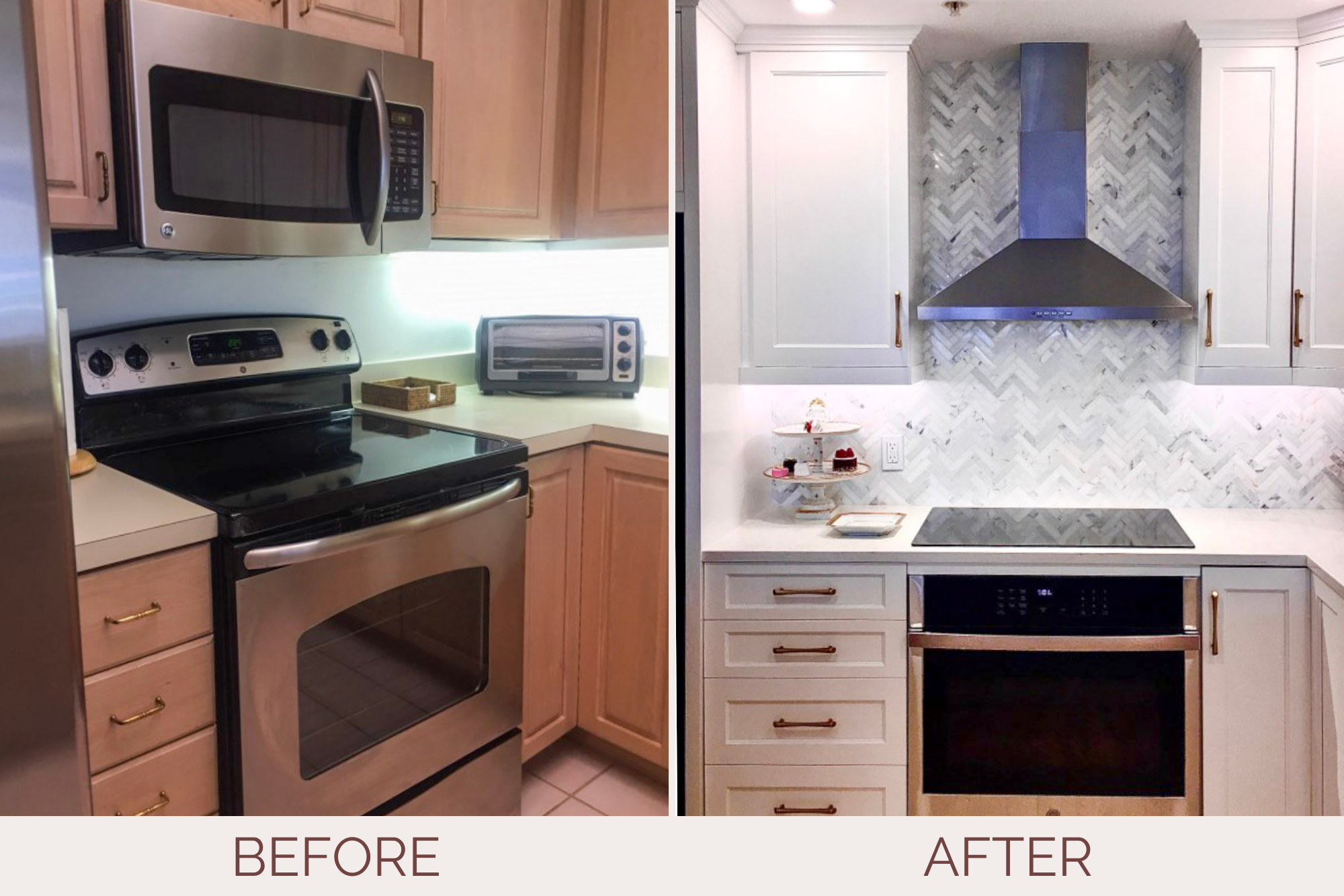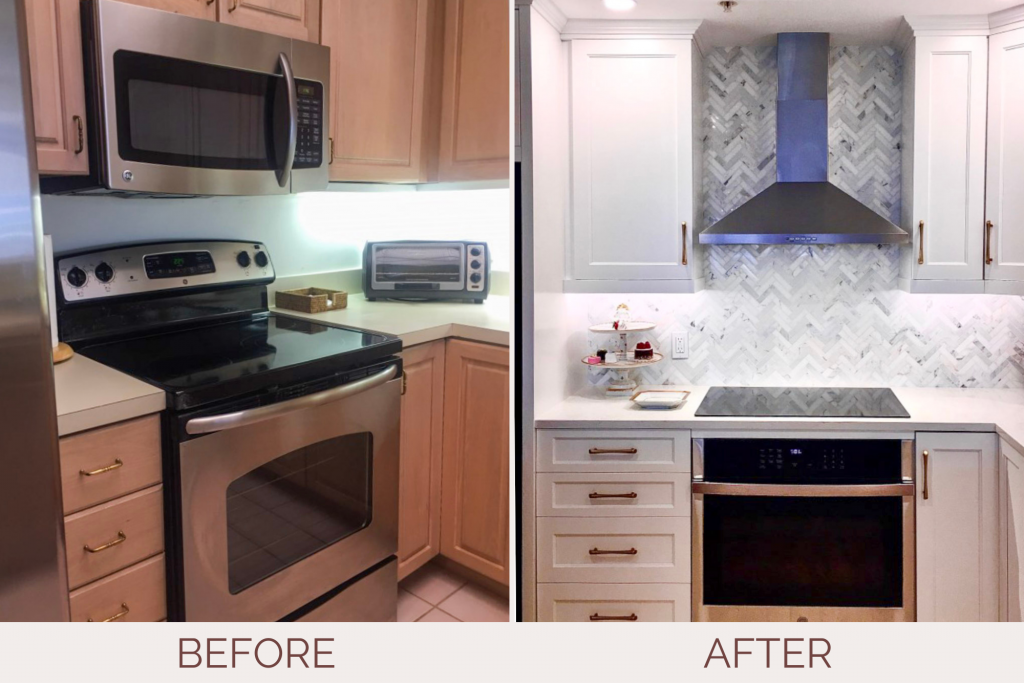 Friends from the Start
Bonnie spent a little time on The Glenview waitlist for the particular residence she wanted. Then, of course, there was the time needed for the renovation. She made good use of this extra time. Bonnie frequently visited new friends and future neighbors at The Glenview and joined them to play mahjongg.
Even during the pandemic, Bonnie kept email contact with several of them—many on a daily basis. Bonnie calls them treasured friends. She says they make all the difference as she comes and goes from her new home at The Glenview. Maintaining strong bonds of social engagement is very important to Bonnie.
Bonnie is involved in all the various enrichment activities offered at The Glenview and particularly enjoys dining with friends and the outstanding menus created by The Glenview's award-winning Chef Chidsey. Within the Naples community, Bonnie loves playing golf croquet, dining with long-time friends and family, and attending the sporting events of her two grandchildren.
The Secret's Out
Bonnie Lynch is not the only one who recognizes the incredible value of The Glenview lifestyle. For generations, The Glenview has been the premier choice for independent senior living in Naples, Florida. Residents recognize the value of equity ownership in an independent living community. They have the security of unlimited access to short- and long-term skilled nursing care. This also includes rehabilitation services at Premier Place, the community's 5-star health center.
In fact, Bonnie's mother eventually moved to Premier Place Health Center as a resident of The Glenview. Residents Lila Corner and Cheryl Peters have also fallen in love with the city, community, and lifestyle at The Glenview. Read their unique stories in our blog, A Tale of Two Residents.
A Final Word
Learn more about the lifestyle you could enjoy at The Glenview at Pelican Bay with Bonnie, Lila and Cheryl.
Follow us and our coastal senior living lifestyle on Facebook, then call 239-431-2587 to begin the conversation or contact us online.