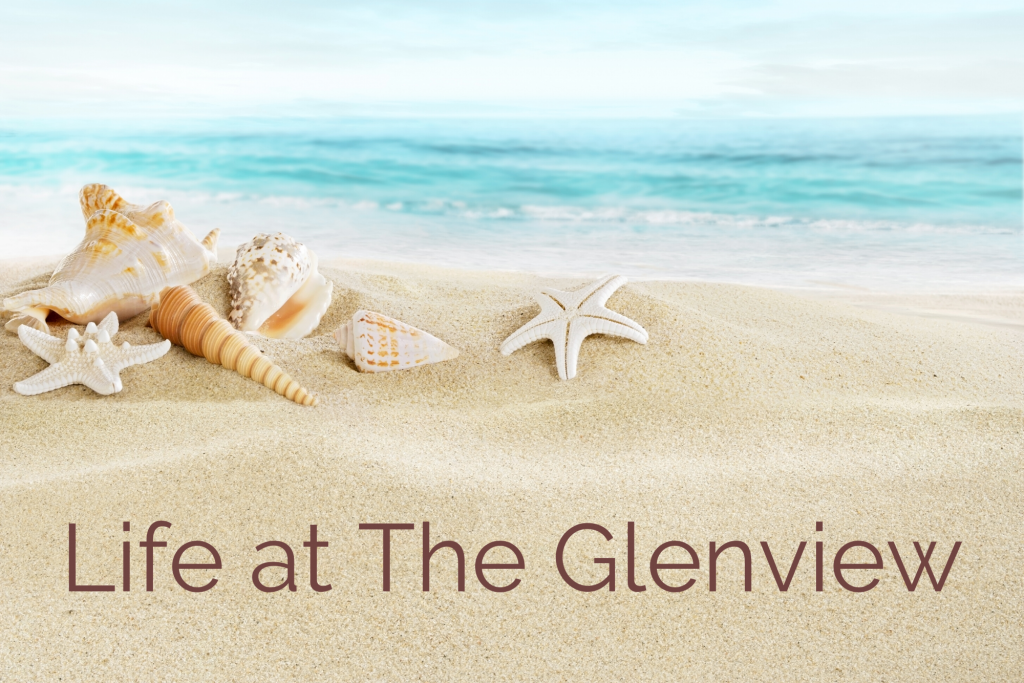 A City, a Community, and a Lifestyle They Love
What's it like to fall in love with a beautiful "city by the sea" in your youth, and then have the remarkable opportunity for a rewarding senior lifestyle in that same great location? You'll soon find out through the personal stories of two vibrant residents of The Glenview at Pelican Bay—Lila Corner and Cheryl Peters.
First, let's set the scene so you can fully imagine Lila's and Cheryl's day-to-day life experiences. The Glenview offers them the best of coastal living in an exclusive beach community tucked along a nature preserve in Naples—a community that blends small-town warmth and charm with the vibrant culture of a big city. Lila and Cheryl live close to everything they love about luxurious coastal living. And, when it comes to The Glenview community, Krisandra Panting, Director of Marketing and Sales, describes it best:
"The Glenview at Pelican Bay is where the city meets the beach as we have apartments that have both beach and city views. So, during the day, one can see the Gulf waters and 588 acres of beautiful tropical preserves, and at night, one can see the high-rise apartments hugging the shorelines." 
Lila's Life in Paradise
Lila Corner calls Naples "pure paradise," and for several years now, she's experienced life to the fullest right here. "I moved to the Glenview 16 months ago and wish I had moved here five years ago when I first decided to live in Naples full time," says Lila. "I've lived in Florida at least part of every year since 1978. In 2002, I became a full-time Florida resident giving up my home in Rapid City, South Dakota." From 1989 until moving to The Glenview, she and her husband Woody lived in Royal Harbor, Port Royal, and Naples.
With Woody gone now, Lila explains that she wanted to change her already active lifestyle and start thinking about the rest of her life. "I moved to The Glenview for the sociability, and I have enjoyed the camaraderie all residents share with each other. Our life together is 'Pure-D Fun!' Everyone knows everyone else, wants to get acquainted, and greets you with a smile—genuinely glad to see you. I love my neighbors and learning about their well-traveled, educated, and interesting backgrounds."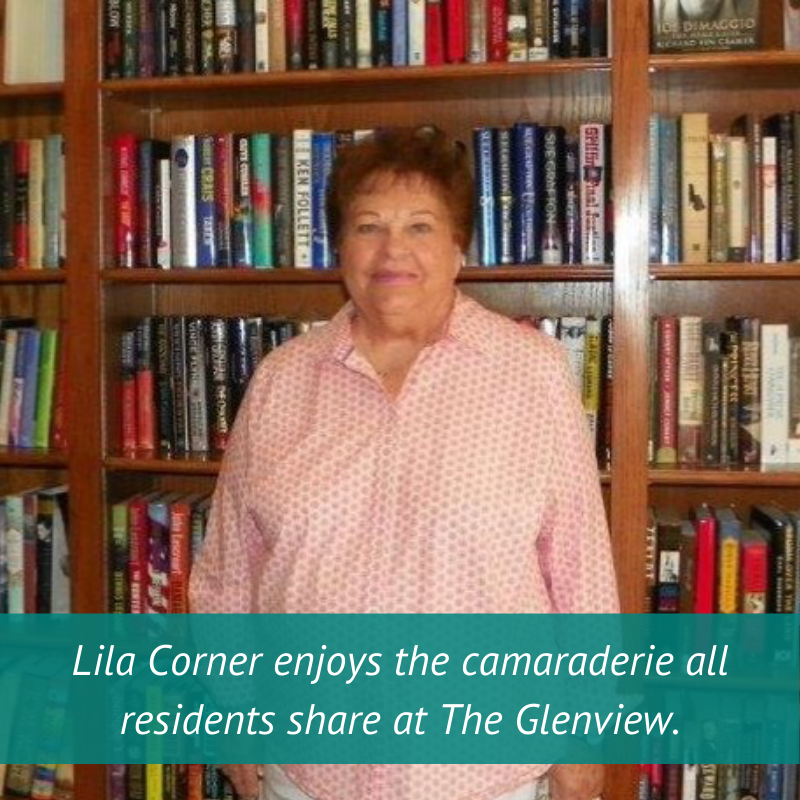 Everything you could want or need
Lila says the greatest part of living at The Glenview is having everything in one building. "You only have to go down the elevator, get off on the main floor, and you're at the dining room, the party room—wherever you need to go—it's all under one roof," she says. "The staff is excellent, the food is great (After 54 years, I retired from the kitchen!), being around the people is wonderful, and the location in Naples couldn't be better—the ocean, waterside, views, etc. To sum up, The Glenview has it all."
At The Glenview, Lila enjoys the lifestyle she lived in Naples before her move—with one exception. A while ago, she and Woody sold their boats. However, Lila still enjoys getting together with the many friends they made during their involvement with the Naples Sailing and Yacht Club (NSYC). As an active member, Lila wrote and produced three musical shows for the NSYC, including orchestra, full staging, and lighting. Lila brought her love of performance to The Glenview, where she started a chorus and wrote a show for the community.
Never shying away from being active, Lila's personal agenda also includes singing in the local chapter of Sweet Adelines, directing a chorus in Naples, and serving for the last 14 years as a member, president, board member, and international board member of Welcome to Florida International Women's Club. "We're a social women's club of 200 members representing 37 nationalities," she shares. "We have monthly meetings that feature special programs and speakers, and we also learn about other countries. Naples is so diverse."
Never a Dull Moment
Other activities Lila enjoys both at The Glenview and out-and-about in her Naples "paradise" are a non-denominational Bible Study, mahjong every Thursday in the Party Room, fantastic shopping in Naples, and the marvelous entertainment opportunities at The Glenview. "Most entertainment is musically oriented, which I love," says Lila, "and there are speakers and educational programs, too. I particularly enjoyed a recent one on Presidents and their First Ladies, featuring George and Barbara Bush. I've also just been appointed as vice-president of the Resident's Council. I work under the direction of a Board and oversee all Resident Committees. Residents of The Glenview take a resident-directed approach to planning services, amenities, activities, and procedures throughout the community."
"There's one more thing," Lila adds. "Under the same roof as everything else, are healthcare services. I have not yet had the need, but friends of mine had a wonderful experience with Premier Place, and I've heard good things about GlenCare Home Care, too." The Glenview is the perfect place for seniors seeking independent living or healthcare services. This is just one more thing that made Lila feel confident she'd made a great decision for the future. "Afterall, I plan to live at The Glenview the rest of my life—there's absolutely no reason for me to move," says Lila.
"In closing, I just want to say to others considering The Glenview for their future—Move before you actually need to. You won't regret it! Although everything you need is right here, our residents live exciting lives in Naples, too. Pelican Bay is a 3-mile stretch of paradise with a private beach. My only regret is that I did not move sooner so I could've been taking advantage of The Glenview lifestyle years ago!"
Cheryl's Best Decision
Cheryl Peters has been a resident at The Glenview for more than eight years. "My decision to move here was the best decision I've ever made," says Cheryl. "I had been living on Vanderbilt Beach in a large 3-bedroom/3-bathroom condo for 17 years. But when I turned 84, I realized I needed care nearby. The Glenview was the only retirement community I considered, as I had friends who had invited me for dinner often, and I always enjoyed being here. This is a very special place; everything is done for you. You do not have to lift a finger. Plus, the food is exceptional, and the activities are super! What more could I ask for?"
This major life decision was an easy one for Cheryl—and smart, too. Like Lila, Naples has always held a special place in Cheryl's heart. She was born in Portland, graduated from the University of Oregon in Journalism. Cheryl then went to work for J Walter Thompson in San Francisco as an advertising account executive on the Ford Motor Company account.
She loves to tell this special story about her early encounter with Henry Ford: "I was in my early 20s and on a dinner date at a popular restaurant in Palo Alto. Our waiter mentioned that Henry Ford was dining with his family at one of the only other tables. I mentioned to the waiter that I worked on the Ford account, to which he replied, 'Oh, would you like to meet Mr. Ford?' The next thing I knew, Henry Ford was standing at our table saying hello—to ME! It was a highlight of my youth and early advertising career. I can still remember the blue and white seersucker sundress I was wearing that night!"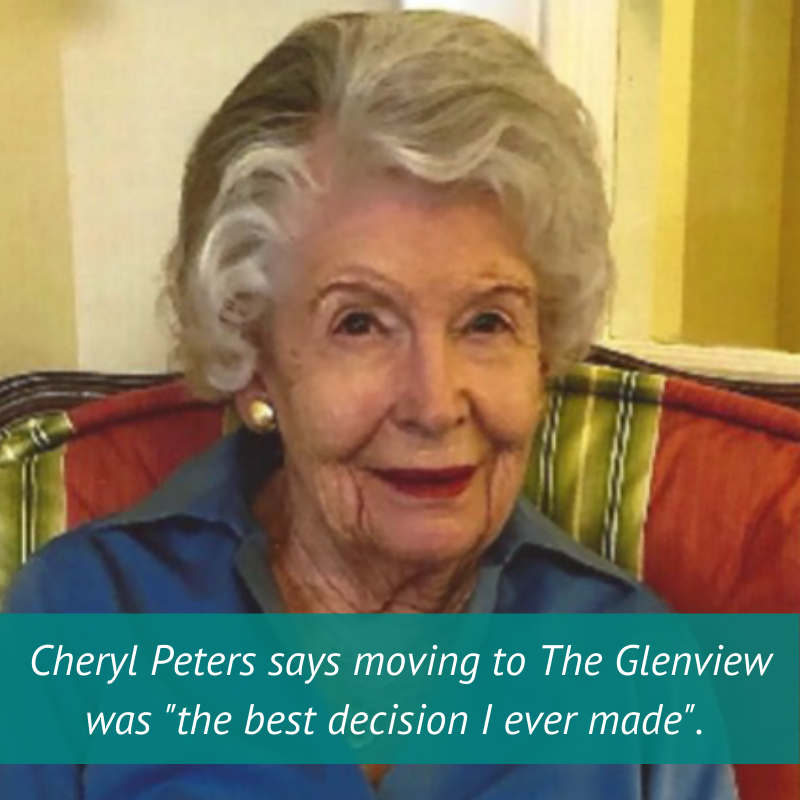 A Naples Connection
For most of her life, Cheryl lived in Darian, CT, with her husband Bill and three children. "Every summer, we used to come to Naples for vacation," she says. "I always thought it was so beautiful in Naples. We all loved the beach. So, when the time was right, I begged Bill to buy a place for us right on the beach. Bill has been gone for about 30 years now, and all my relatives are still in Oregon. But I have met a lot of very good friends here—and we still get together. I have a strong 'Naples Connection!'"
"It's so important to keep busy and keep going," says Cheryl. "I love the social part of The Glenview and the entertainment, cocktail parties, and programs. A professor from Gulf Coast University often comes and gives lectures. The residents here are such vital, interesting people to meet and talk to. Of course, I love the beach! I often go for a walk on The Berm (a 2-mile paved walkway along the beach behind The Glenview). It goes all the way through Pelican Bay—a wonderful place to walk."
The Perks of Pelican Bay
"As a homeowner at The Glenview, I enjoy special privileges of the Pelican Bay Foundation, private access to Pelican Bay Beach, and access to membership at Club Pelican Bay. I loved that when I used to golf. I play a lot of bridge in the card room these days, and I love to read. There is a nice selection in our community library and my son Christopher sends me boxes of books. Over the years, I have also kept myself very busy serving on resident committees—the book committee, library committee, entertainment committee, social committee."
"Lately, I've been watching some pretty fascinating activity outside my 4th-floor window. It overlooks a beautiful swimming pool that is currently being retiled. Of course, this is the time of year for landscaping, and that's interesting to watch, too. An impressive new poolside seating area is under construction, as well. And, when it's finished, I'll find the perfect poolside spot for reading, people-watching, and chatting with my neighbors. Life is good!"
To schedule a personal tour of The Glenview at Pelican Bay and experience the lifestyle Lila and Cheryl enjoy so much, call 239-431-2652 or register online.