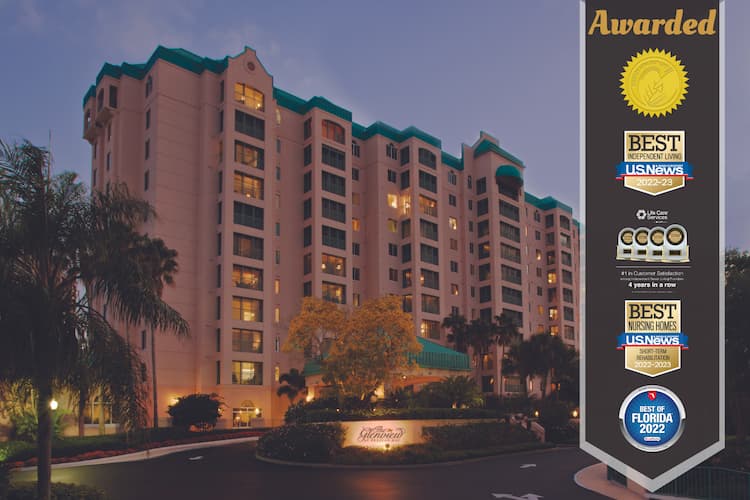 The Glenview's deep roots in the upscale neighborhood of Pelican Bay trace back to 1988 with the purchase of 7.7 acres of undeveloped mangrove forest in beachfront Naples. What began as a resident-owned senior living cooperative high-rise has blossomed into an award-winning community that embodies the best in independent living, resident satisfaction, nursing and home care.
"We keep residents at the heart of everything we do in a meaningful and measurable way, so it's an incredible honor when publications and authorities in quality and care acknowledge those efforts," said Patrick Noonan, executive director.
There's so much information and options to consider when making important life decisions like moving to independent living, finding a home care provider, or choosing a senior rehab or health care center. If you or a loved one needs care, it can be overwhelming and challenging to determine which health centers offer the best care or which senior living community is the best fit.
"It's easy for us to sing our own praises about how and why The Glenview is a premier senior lifestyle community, but we don't want residents and potential residents to just take our word for it," said Krisandra Panting, director of sales and marketing. "Awards from outside, unbiased parties can fill information gaps, provide credibility, and help seniors and their adult children identify senior living communities and nursing care centers that meet their needs and wishes."
She added, "They're a reassuring sign that The Glenview is truly a winning choice for senior living, and we're proud to share some of these recent regional and national accomplishments."
BEST SENIOR LIVING COMMUNITY
Excellent responsive staff. Variety of life enrichment activities. Extremely safe community. High-quality food. Prompt dining service. Resident and family member feedback like this prompted the U.S. News & World Report to designate The Glenview at Pelican Bay a Best Senior Living Community for 2022-23. Our community earned "Best" status by achieving the highest possible rating for independent living.
Overall, surveyed residents and family members highly recommended our community performance in value, location, enrichment, food quality, safety, transportation, management, staff, maintenance, and housekeeping.
BEST FLORIDA HOME CARE PROVIDER
When it comes to home healthcare providers, Guide to Florida® readers and editors think The Glenview's GlenCare team goes above and beyond. GlenCare Home Care Agency was a 2022 Best of Florida® Winner, chosen by readers' votes and editors' input, and vetted through ranking sites, Better Business Bureau® reports, and voting pattern reports. GlenCare's services include preparing meals, running errands, conducting home safety and fall risk assessments, helping with medications, and other home and healthcare needs. A team of highly qualified and thoroughly vetted nurses, aides, and personal assistants provide in-home assistance to The Glenview residents and seniors in the surrounding Naples area.
BEST SHORT-TERM REHABILITATION 
Our onsite healthcare center, Premier Place, earned Best Nursing Home distinction (5 out of 5 rating) from U.S. News & World Report for short-term rehabilitation. Open to The Glenview residents and the greater Naples community, the center provides post-acute care for patients recovering from a hospital stay following a stroke, heart attack, infection, or accidental injury. More than 65 percent of Premier Place patients can return home after discharge—a key indicator of successful rehabilitation and nearly 20 percent higher than the Florida average.
BEST LONG-TERM AND NURSING CARE CENTER
Premier Place doesn't only demonstrate excellence for short periods; we also provide exceptionally high standards of care and service for the long term. The prestigious Governor's Gold Seal Award for Excellence recognizes Florida nursing centers that demonstrate excellence in long-term care over a sustained period.
Florida's Agency for Health Care Administration evaluates applicants who also must prove they enhance the industry's stability and promote residents' physical, social, and emotional well-being. Nursing care centers must meet a quality of care scoring and ranking that places them in the top 15 percent in the state and be a Five Star center in the AHCA Nursing Home Guide.
"Gold Seal recognition is a high bar to reach, and we're honored to have earned it," said Director of Nursing Juan Ricardo, also an award-winner for his outstanding care and service. Ricardo is a multi-year recipient of the Harrison Award, a top honor given by Life Care® Services, The Glenview's management company.
Additionally, Premier Place has achieved a Five-Star Quality Rating from Centers for Medicare & Medicaid Services. CMS created the rating system to help consumers, their families, and caregivers compare nursing homes more efficiently.
HIGHEST SENIOR LIVING RESIDENT SATISFACTION
For the 4th consecutive year, The Glenview at Pelican Bay's management company, Life Care Services, ranked highest in customer satisfaction with independent senior living providers.
The J.D. Power 2022 U.S. Senior Living Satisfaction Study examined industry-level performance metrics of senior living providers and highlighted best practices critical to customer satisfaction, advocacy, and loyalty.
LCS achieved the highest score in all six factors of independent living resident satisfaction: resident activities, community staff, price paid for services received, resident apartment/living unit, community building and grounds, and dining.
AN AWARD-WINNING CHOICE IN SENIOR LIVING
"Awards and accolades such as these are a testament to our commitment to enhancing our residents' lives through our mission and vision," Noonan said. "It's the collective accomplishments of our dedicated team members who help make The Glenview a wonderful place to live and work—and set us apart from other communities."
Explore The Glenview at Pelican Bay, Premier Place and GlenCare Home Care. Or better yet, experience it for yourself and meet our award-winning team.