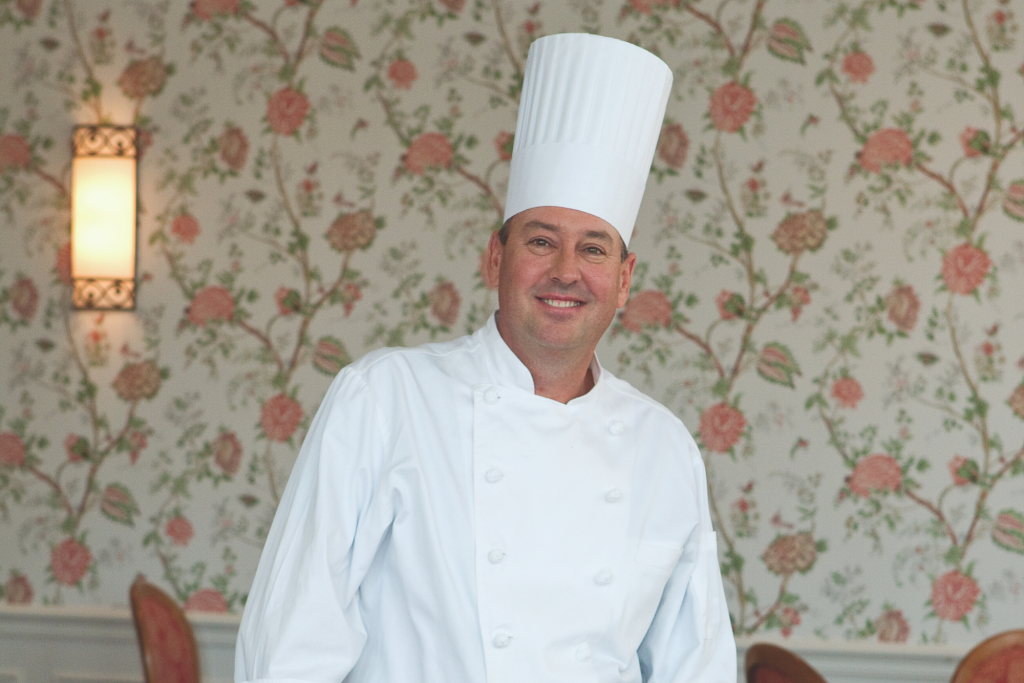 David Chidsey, Executive Chef at The Glenview at Pelican Bay, has been nominated for the Life Care Services (LCS) Chef of the Year Award. LCS, a trusted leader in the senior living industry and recognized by J.D. Power for customer service satisfaction in 2019, is the management company for The Glenview. Their prestigious Chef of the Year Award was established to give proper recognition to an incredible range of talented chefs who create memorable dining experiences for residents and guests in LCS communities across the country.
The Glenview is proud to showcase Chef Chidsey as a premier culinary professional who loves the challenge of working in senior living. He says he's been inspired the past 26 years by the autonomy to continuously create unique menus and introduce new techniques and cuisines to The Glenview residents.
"Chef Chidsey and his well-trained culinary staff work hard on menus that provide what residents of The Glenview want," says Rachel Ritter, Food and Beverage Director. "Resident satisfaction is quite high here where choice and selection mean a lot. Our food ranks among one of the biggest reasons people move to The Glenview."
Relocating to Florida from Ohio in 1983, Chef Chidsey claims the Naples area offers a true compliment to his culinary skills and objectives. "Florida is a tourist destination and everything is always in season," he says. "This gives us access to a large variety of high-quality fresh ingredients and seafood—year-round. There are wonderful culinary influences here, too—Cajun, Creole, Cuban—that we are able to draw on for our menus and style of cooking. But, ultimately, we rely on feedback from our residents to determine what should be served at The Glenview."
According to residents Myra and Jim Morrison, "Our Chef is a key member of The Glenview family. His creativity is second to none and his sources of fine foods are outstanding. We've lived here for more than 12 years now and choose to dine here even though we belong to other local clubs. We invite friends in for dinner in The Glenview's private dining room and are presented with a menu of six entrees. David is our Jewel, and he always receives many compliments!"
Dr. Douglas Gebbie, a 15-year resident of The Glenview and regular taste-tester for Chef Chidsey, agrees with the Morrisons. Dr. Gebbie had the pleasure of being the first to experience one of Chef Chidsey's now-famous signature dishes, a hybrid of two very favorites—Maryland crab cakes and pan-roasted scallops served over fresh corn polenta with a sweet/spicy bacon sauce. You can experience the preparation of this masterpiece and Dr. Gebbie's satisfaction on the special featured video in this blog.
Is there a secret to Chef Chidsey's 25-year success at The Glenview? "You have to be willing to check your ego at the door," he says. "By that I mean I'm not so set on doing everything 'my way.' I've learned to listen to the residents—who are very, very receptive to my style of cooking—and to my staff—from whom I gain a little bit of knowledge from each one! I always try to give my very best!"
As you can tell, resident feedback drives the menu development process in each restaurant-style dining option—from formal to casual—at The Glenview. Chef Chidsey works very closely with an active community food committee to keep all menu items fresh and ever-changing. "The Maryland crab cakes entrée is just an example of the many items we offer," says Chef Chidsey. "Menus change every day and we like to throw out different dishes to see how well they are received."
Resident Jim Payne says it feels like a treat every time he sits down for a signature Chef David dinner. Not only are the meal choices expansive, but individualized and celebratory. "He prepares our meals the way we like them and will increase or decrease a serving, depending on our appetite. As an added touch, David will prepare tailored meals and desserts for special occasions, such as birthdays and anniversaries," says Jim.
Dietary concerns and healthy eating are taken into consideration, as well, by Chef Chidsey's culinary program. The Glenview is a Blue Zones Certified Community and as such, takes wellness beyond delicious meals and flexible dining options making food an important part of the overall wellness experience of its residents. "We meet with residents who have specific dietary needs to determine how we can best serve them by offering blue-zone, gluten-free, and dairy-free menu choices," Chef says. Another special service appreciated by The Glenview residents is the opportunity to have lunch or dinner delivered to their private residence each day.
Once COVID-19 restrictions have been lifted, Chef Chidsey plans to host a series of cooking demonstrations for The Glenview residents and guests on the community's newly renovated pool deck. In the meantime, hear all about Chef Chidsey's culinary approach in the video mentioned above—and good luck, Chef, in the Chef of the Year competition, postponed like a number of other events to a time in the near future.
We're staying in touch virtually during these challenging times, so please call us at (239) 431-2587 or register online for a virtual conference with a representative of The Glenview at Pelican Bay.