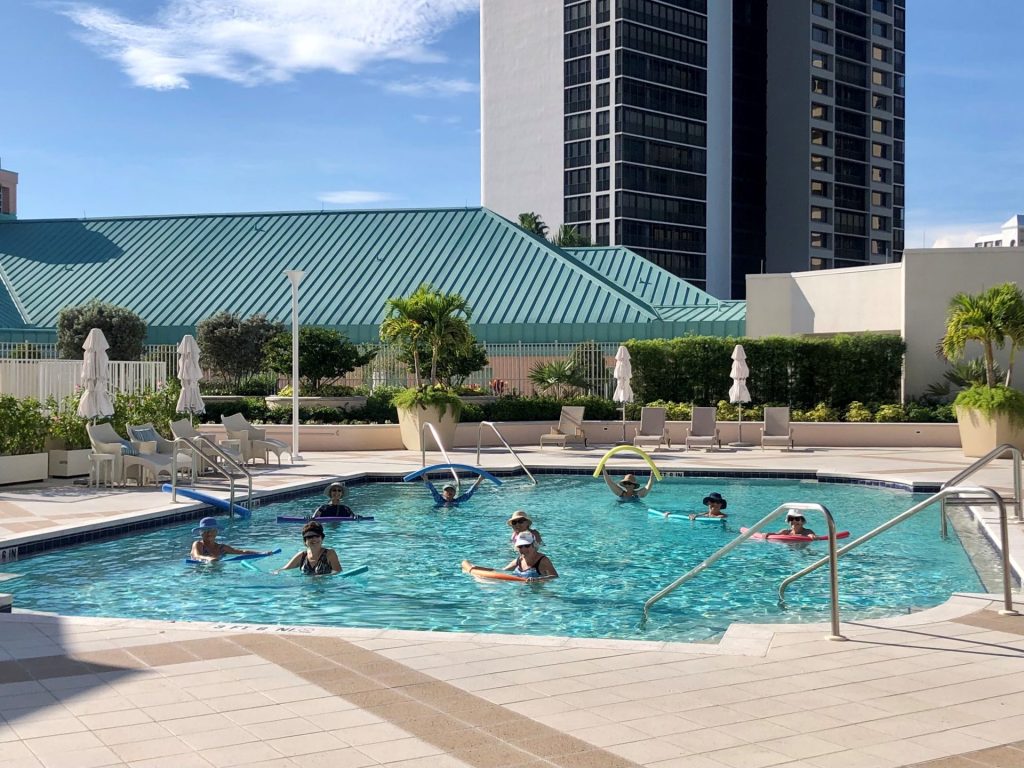 Seasonal residents of Naples, Pelican Bay, and The Glenview — some of whom headed up North to leave Florida's summer temps behind — return home in early October to find the area bursting with recreation, entertainment, and unique activities for seniors during the fall and winter seasons.
Homeowners at The Glenview at Pelican Bay enjoy a wealth of onsite services, resort-inspired amenities, and activities — inside and out, on- and off-campus. A full-time activities director coordinates a variety of recreational programs and social activities. Here's just an idea of how you might wile away the hours during the fall and winter months at The Glenview:
Educational seminars, expert panels, informational workshops, and healthcare updates
Weekly cocktail parties with live musical entertainment
Seasonal parties and celebrations
Fitness classes, including water aerobics in a heated pool, surrounded by a newly remodeled sun deck and spa
Social and informational excursions into the surrounding Naples community
Card games and book clubs
Have we captured your attention yet? If not, activities director Marilyn McGinty says the following special fall events are always popular with The Glenview residents:
The Glenview's Annual Carpet Croquet Tournament. Professional, serious, and FUN! Even a "draw" for folks visiting the Naples area.
A Red, White, and Blue Veterans Day. A theatrical and musical tribute held annually in honor of The Glenview veterans.
LIVE Musical Entertainment during cocktail hour — three evenings a month!
Opportunities for Fun in and Around Pelican Bay and Naples
Ask The Glenview residents and they're bound to say the Pelican Bay and Naples area is bursting with small-town warmth and charm and filled with the vibrancy and cultural wealth of a big city throughout the year — but especially in fall and winter!
Pelican Bay is surrounded by 88 acres of parks, recreation areas, and lush tropical flora. It's celebrated for its unrivaled amenities including exclusive-access beaches, world-class fitness and wellness facilities, four beach restaurants, and opportunities for outdoor recreation such as golf, tennis, biking, canoeing, kayaking, sailing, fishing, and strolling leisurely on more than three miles of pristine white-sand beaches. Add to these outdoor amenities chic shopping districts, fine arts opportunities, great dining, and lively clubs, and you'll find the area unlike any other senior living enclave in Florida.
Homeowners at The Glenview, like other residents on Pelican Bay, are automatically members of the Pelican Bay Foundation allowing them access to all the amenities mentioned above, as well as private membership to Club Pelican Bay and Community Center — a social hub offering more fellowship, cultural and educational opportunities.
Additional activities at the Community Center include an art studio, bridge, mahjong, and chess groups. And a fitness/wellness center at the Center offers aerobics, Pilates, yoga, and spinning classes. You won't miss a beat of your wellness routine from season to season or day to day as you choose to follow the sun to Pelican Bay and Naples.
Enticing Special Events in Pelican Bay/Naples during the Fall
At The Glenview, we know our homeowners well when it comes to their favorite outings within the Naples area. Some of their favorite fall activities and special events are listed below. We think you'll enjoy them, too.
At Artis—Naples, enjoy chamber music, a masterworks classical music series, pops concerts by Jack Everly, piano concerts, and more at this home of the Naples Philharmonic and The Baker Museum.
At The Baker Museum, view an outstanding permanent collection of more than 50 works, as well as the permanent Chihuly Collection of four dynamic studio glass, large-scale installations.
The Naples Players and The Mercato always feature live productions and live concerts in the fall.
Fifth Avenue South offers regular live musical performances up and down the sidewalks of Fifth Avenue South, plus dining, shopping, and more.
RedSnook Catch & Release Charity Fishing Tournament is The Conservancy of Southwest Florida's Annual Tournament — very popular with most Pelican Bay and Naples area residents every October.
Just outside of Pelican Bay, you'll find rich specialty experiences like the Collier County Museums showcasing the area's history and heritage. The Glenview residents particularly enjoy the Immokalee Pioneer Museum, the Marco Island Historical Museum, Museum of the Everglades, and the Naples Depot Museum. There are also more than 100 independent art galleries in the Naples area.
There's so much more to tell you about Naples, Pelican Bay, and The Glenview! So, if you're not already here, start packin', and then be sure to stop by The Glenview for lunch and a visit to learn more about what's in store for this Fall. Contact us. You'll be so glad you decided to spend the season with us.