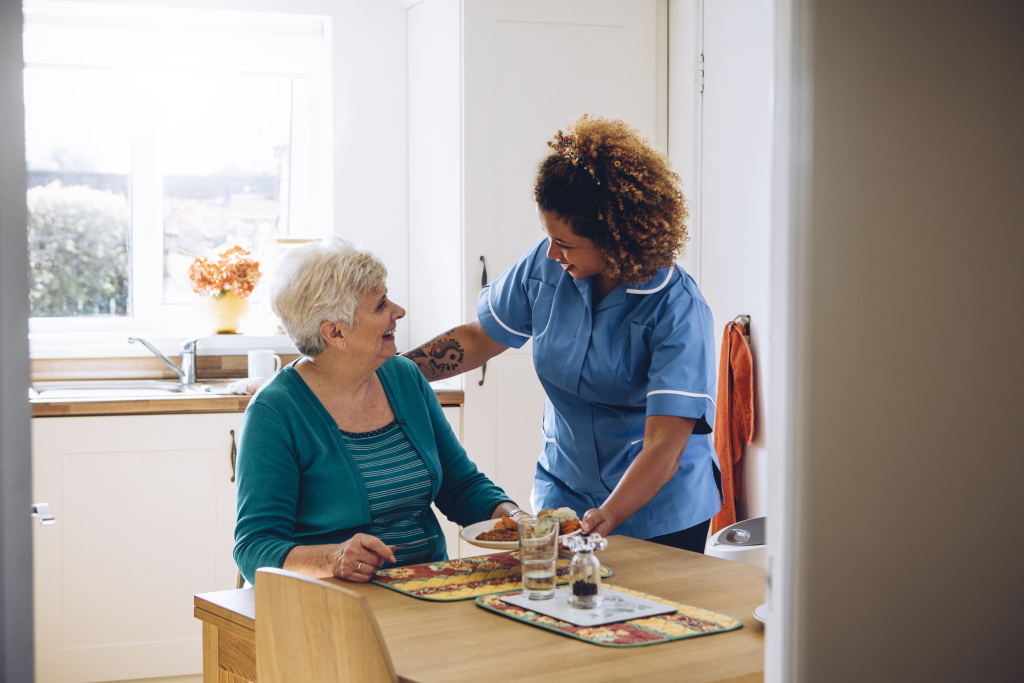 In-Home Help for Seniors
Everyone needs a little help around the house now and then. This is especially true for seniors who are in pursuit of the perfect independent retirement lifestyle. No community realizes this more—or supports the idea more ardently—than The Glenview at Pelican Bay, Florida's only nonprofit equity-owned LifeCare community.
In one of our recent blogs, Cheryl Holderfield, Director of Nursing for GlenCare Home Care Agency (GlenCare), best explains the agency's approach to in-home care and household support with this mission statement: We believe everyone has a right to age-in-place if they wish. It is our mission to support this desire by helping our in-home care clients feel informed, educated, and supported throughout the aging process.
Information. Education. Support. This is the purpose of this blog as we further maintain The Glenview's unchallenged position as the area's premier resource for senior living, in-home care services, and just plain finding help around the house. Unlike other retirement communities in Florida, GlenCare offers real solutions as you are looking for senior help or support.
An Outreach for In-Home Care
The Naples area—including Collier and Lee counties—is ripe with companies and agencies that market to seniors for all kinds of services. Transportation. Home-delivered meals. Home health aides. Outpatient physical therapy. Skilled nursing care. Emergency response services. An Internet search for these general offerings and services in the Naples area can be quite overwhelming. Here we'd like to share some suggestions for finding in-home care as a resident or local adult in the area.
First of all, what does GlenCare Offer? GlenCare is community-oriented, and by that we mean we serve The Glenview homeowners, of course, but our client base extends throughout Collier and Lee counties in the Naples area, as well. GlenCare has more than 50 clients who live at The Glenview and more than 50 more who enjoy their supportive care services directly from their homes in the surrounding Naples area. Services offered by GlenCare include:
Health and Home Assessments A team of experts is ready to answer your questions, assess your care needs, and create a personalized in-home care plan for you. In addition, clinicians can conduct home safety and fall-risk assessments, making life easier and healthier for you or the senior in your life.
Convenient, essential, and supportive care Certified nursing professionals and home health aides are available whenever and wherever needed—at home, hospital, skilled nursing center, etc.
Communication Talking with doctors and adult children with medical updates, scheduling lab tests, and medical appointments is an important service to local seniors and their families.
Light Duty Assistance In-home care professionals contracted through GlenCare assist clients with light in-home tasks such as changing/washing sheets, preparing breakfast, loading the dishwasher, light cleaning, etc.
Emergency Services GlenCare caregivers will contact emergency services in the event of a medical emergency and can provide a sense of security to family as a regular check-in on their loved one.
In-home care services following surgery This includes regular nurse visits, medication management, wound care, breathing therapy—four hours per day or even around-the-clock seven days a week.
Heartfelt Connections—A Memory Care ProgramTM This specialized program is designed to enhance well-being and safety for those with cognitive concerns. While under the care of trained memory care professionals, the client achieves the highest quality of life and level of functioning while maintaining dignity.
Award-Winning Care at Premier Place
Besides offering in-home care services for every need through GlenCare, Premier Place—The Glenview's onsite healthcare center—is available to seniors in the Naples area. Granted, the care services at Premier Place are not "in-home," but we mention it here because easy availability of specialized care offered at Premier Place is important to local seniors.
Whether it's outpatient therapy services, post-acute rehabilitation, short recovery from an illness, or long-term skilled care, the multi-disciplinary team of nurses, therapists, and aides at Premier Place provide the personalized care, encouragement, and attention you need to get back to feeling your best as soon as possible. In a comfortable spa-like setting, you'll enjoy scenic views of the mangrove forest and estuary during your stay, as well as access to special amenities that promote health and healing. Visit our Premier Place website to familiarize yourself with the care services offered for all residents of Naples.
I'd Like to Get My Carpets Cleaned!
Now that we've made you aware of popular in-home care services available to Naples' residents through The Glenview, let's get back to the subject of more specific in-home help for seniors.
Sometimes help around the house does not necessarily mean personal care.  We consulted with Ana Marques, Health & Wellness Navigator at The Glenview, for her suggestions regarding typical assistance requests from residents of The Glenview and senior GlenCare clients. Ana has the following comments and suggestions when area seniors request help around the house with:
Heavier Housecleaning Within most senior living communities in Florida, in-home help with spring cleaning, windows, carpets, moving furniture, hanging pictures, etc., can be arranged through the community—potentially, for an additional service fee. Window cleaning is most often included for homeowners. Some Naples' homeowners contract online services like Merry Maids or Neidia's Cleaning Residential & Commercial (239.357.5876) for deep cleaning services like those above.
In-Home Meal Delivery As a Naples resident, you'll find that all area restaurants offer delivery services. Many Naples seniors have had a worthwhile experience contracting a private in-home chef to prepare their meals. Organizations such as TAKEACHEF have more than 60 professional chefs in the Naples area. Other in-home daily meal resources include Howe Catering (239.564.6540) and Lulu's Kitchen (239.774.5858).
A Driver for a Day Most commonly, senior living communities in the Naples area offer transportation services to doctor's appointments and for local errands—including The Glenview. The surrounding Naples area is filled with active seniors who are accustomed to getting out-and-about. Transportation services are plentiful—all are found online or through the Greater Naples Chamber of Commerce, which offers an Annual Guide that includes contact information for all helpful services in the Naples area.
Technical Resources You'll find that Naples' senior living communities all have in-home medical alert systems serviced by each community. It's an industry standard. Such is the case, as well, for internal Information Technology (IT) experts who help residents with television, computer, and laptop problems. Online resources are also plentiful in Naples.
Medical Assistive Devices

Many seniors depend on durable medical equipment (canes, walkers, AFOs and orthotics, transfer seats) and other assistance resources such as CPAP supplies, oxygen, grab bars, etc. While it's always suggested to work with your physician or physical/respiratory therapist for these devices (medical insurance is often a factor to consider), Ana has offered the following helpful resources

Admeco Medical, Inc., (239.234.2399) or Naples Oxygen (239.597.1799) for durable medical equipment, oxygen, and respiratory supplies.
Grab Bars (239.514.4722) for in-home grab bars.
Hanger Clinic: Prosthetics & Orthotics (239.434.0070).
We're Here to Help . . .
We hope this information has eased your mind regarding the availability of in-home senior care and in-home assistance in the Naples area. There are other common senior services we may have missed. The Glenview and GlenCare are great local resources, and our professional staff, such as Health & Wellness Navigator Ana Marques, would be happy to assist you or your family with resource information.
The Glenview and GlenCare seek to make a meaningful and measurable difference in the lives of the seniors we serve through dedication, graciousness, compassion, integrity, and quality of care. Please contact us soon and schedule a personal tour.