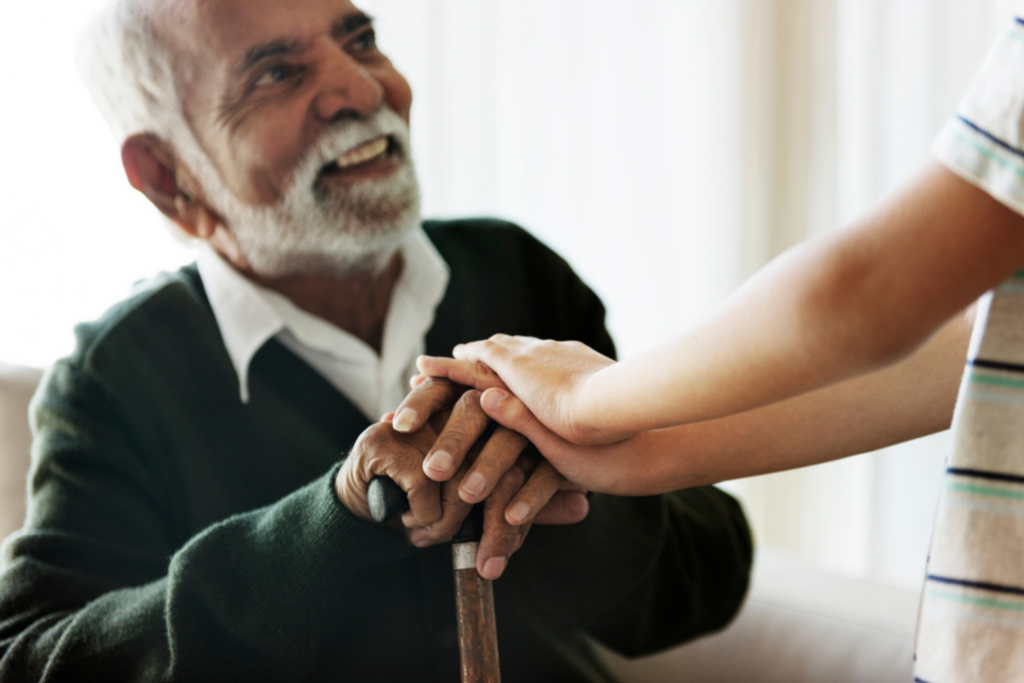 **Updated June 2023**
Your Questions About Home Care Services Answered Here
The Glenview at Pelican Bay continues to evolve GlenCare Home Care Agency (GlenCare) services by offering customized assistance and care that comes to you. Never has this been so evident a need than during the pandemic months of 2020-2021.
As Cheryl Holderfield, Director of Nursing, GlenCare Home Care Agency/Wellness, reflects, "Whether you or a loved one live at home or in a community, it has been a stressful time filled with uncertainty. Keeping healthy and safe is on everyone's minds right now. During this time of social isolation, the mental health benefits that home health workers provide cannot be overstated."
Let's take a closer look at GlenCare and review the in-home care services available to you.
A Full Spectrum Of Individualized Home Care Services
For more than 20 years, The Glenview has offered convenient services, resort-inspired amenities, and exceptional 5-star care for discerning seniors in the Naples area. Thereby, supporting seniors' choices and enhancing individual independence and well-being for seniors is a top priority for our community.
One of the many ways we enhance well-being is through GlenCare home care services. The services of GlenCare have evolved over the years to include the following:
Personally Yours Assistant™ Program
GlenCare Home Care Agency—nurses and home health aides
Heartfelt Connections—A Memory Care Program™
Each of these programs offers a full menu of services based on personal needs for you or your loved one.
PERSONALLY YOURS—Help and support in your own home
Could you or your loved one use a helping hand from time to time? GlenCare's Personally Yours Assistant™ Program offers trusted in-home personalized assistance and care from our fully licensed home care services team. This is a unique choice for all residents of Collier and Lee counties who want a little more help to fulfill a to-do list. This extra support allows for more time and energy to spend on favorite pastimes.
From meal planning and light housekeeping to driving you to appointments, Personally Yours Assistant™ offers a helping hand whenever and however you need it. Think of it as a trusted companion with an extra set of eyes, ears, and hands to ensure the day goes smoothly. For example, more confidence on a daily walk, a swimming buddy, someone to accompany you for shopping or a class—companionship for whatever you love to do.
GLENCARE HOME CARE—Convenient and essential care
Sometimes you need professional nursing care and support beyond personalized assistance. Our highly trained and skilled GlenCare Home Care team is ready to help with your needs. We go wherever you are, whenever you need us—to your home, hospital, skilled nursing center, anywhere.
Starting at just four hours a day, you can request the services you desire. Maybe you need help a few hours each day following surgery, regular nurse visits, medication management, or even around-the-clock care seven days a week.
HEARTFELT CONNECTIONS—A memory care program
The staff of Heartfelt Connections has specialized memory care training that provides strategies for a continuum of care to dementia residents, clients, and their families. The program is designed to enhance well-being and safety for those with cognitive concerns. Additionally, it enables the resident to achieve the highest quality of life and level of functioning while also maintaining dignity. This life-affirming program views aging as a natural process.
Expert Clinicians At Every Level
GlenCare's expert clinicians—case managers, registered nurses, licensed practical nurses—can help you navigate the healthcare system. Assistance may include talking with doctors, scheduling lab tests and medical appointments, as well as managing medications, and performing wound care and breathing therapy.
At GlenCare, you have a team of experts ready to answer your questions, provide health assessments, conduct home safety and fall-risk assessments, and more, making life easier and healthier for you.
Fully licensed Home Health Agency
More than 20 years of experience
All employees undergo Level 2 background checks
Serving all of Collier and Lee Counties
Frequently Asked Questions About Home Care Services & GlenCare
Hopefully, you now have a basic understanding of home health care and have been introduced to the various levels of home care services offered at GlenCare.
Here are a few more questions we are commonly asked.
How do you know the level of care needed?
We encourage you to understand the different care level options, and hopefully, the descriptions above will be helpful when it comes to GlenCare. If you're just starting to realize that more help is needed, keep in mind that these needs will only increase. Unless you and your family are willing to take on more caregiving roles yourself in the future, it would be best to begin looking for alternatives through research and talking to professionals and friends. Our team at GlenCare can also assist you with health assessments, home safety tests, and offer recommendations for care levels.
Who benefits from home health care services?
Both the aging individual and their family benefit from home health care services. The individual benefits from the care, support, and attention. The family benefits from the peace of mind of knowing a professional is caring for their loved one.
Given our current national health crisis, isn't it best to avoid healthcare workers in my home?
As Cheryl Holderfield best explains, "Of course there are risks in continuing to have a home health worker come and go from your home, but that doesn't mean you should not get the help you need. Just as getting groceries or even ordering them online has slight risks, the benefits far outweigh the potential risks. Pandemics cause worries of exposure to germs and the coronavirus, but home health workers are some of the best people to interact with because they're already trained in minimizing risk for the people they care for."
Must I live at The Glenview in order to take advantage of the home care services of GlenCare?
No! GlenCare serves clients who live in The Glenview, of course, but also clients throughout Collier and Lee counties and in the Naples area.
Are there other health-related services at The Glenview that I can take advantage of as a non-resident?
The Glenview's Premier Place Health and Rehab Center has several services available to non-residents. As an introduction to Premiere Place, watch our video.
What costs can I expect for home health care services?
As a general rule, the cost of home care services is specific to what the client needs and wants. At GlenCare, experienced and professional case managers work closely with clients to help determine needs and develop a home care plan. Consultation and resources are available upon contact.
Have More Questions Of Your Own?
We'd love to answer them for you. Contact us today!