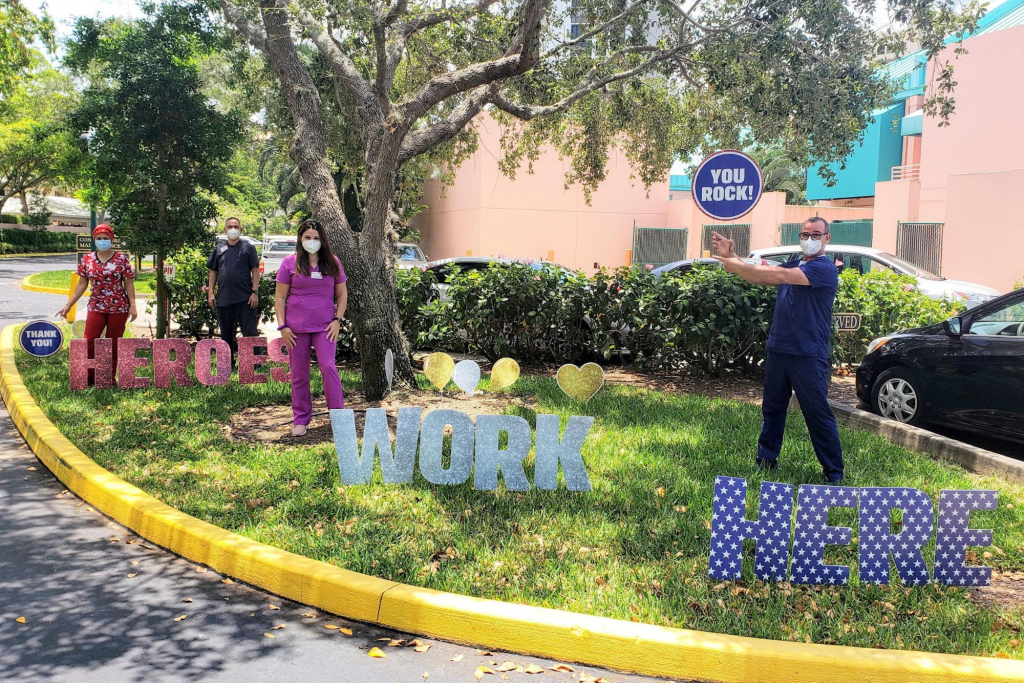 Award-Winning Healthcare Center Supports #GlenviewStrong
The Glenview at Pelican Bay is pleased to bring you Part 2 of its three-part #GlenviewStrong campaign. Part 2 focuses on the community's resilient foundation and strength of character. The campaign premiered in July with Part 1: A Community of Heroes. If you missed it, you'll find it still posted on our blog page. In Part 1, Executive Director Patrick Noonan presents great historical information on The Glenview. Additionally, he shares why #GlenviewStrong was launched this summer as a celebration of The Glenview staff.
Here in Part 2, we introduce you to some of the heroes of Premier Place. The Glenview's luxurious onsite healthcare center is open to all residents of The Glenview, as well as those in the greater Naples community. As the winner of the prestigious Governor's Gold Seal Award for Excellence in Long-Term Care, Premier Place adheres to The Glenview's vision—to be the premier senior lifestyle community in Southwest Florida making a meaningful and measurable difference in the lives of those we serve through our dedication, graciousness, compassion, integrity, and quality of care administered by our staff.
Dedicated Professionals—A Diverse Menu of Caregiving
This vision is obvious during the current COVID-19 pandemic. Residents depend on these dedicated professionals to drive positive morale and support during a very unique time. Their positivity, energy, and focus on doing everything they can to keep residents safe, secure, and well has bonded this incredible staff together via a common goal and a superior attitude.
As one of the most recently renovated skilled nursing communities in the Naples area, Premier Place accepts patients coming from area hospitals for short- and long-term care. Premier Place specializes in orthopedic, neurological, and cardiac rehab. The staff is committed to excellence and take a holistic patient-centered approach to one's health and wellness.
Post-acute rehabilitation in spacious private rooms
Physical, occupational, and speech therapies
Orthopedic rehabilitation, specializing in joint replacement
Neurological, cardiac, and pulmonary rehabilitation
Long-term skilled nursing care, respite, and hospice care
Dynamic therapy gym
Pain management
A Hero's Code of Ethics
The staff at Premier Place approach each day enacting a strict code of ethics. As a patient, this will give you peace of mind, a secure feeling of well-being, and the drive to get better faster. You can expect to be greeted warmly with a smile by someone who knows your name and will treat you with courteous respect. By listening and responding enthusiastically and in a timely manner, the staff at Premier Place will strive to anticipate your needs and act accordingly. No detail is overlooked. The staff of Premier Place embraces these ethics as Extraordinary Impressions and is proud to celebrate a culture of service and dedication as illustrated in the photos here.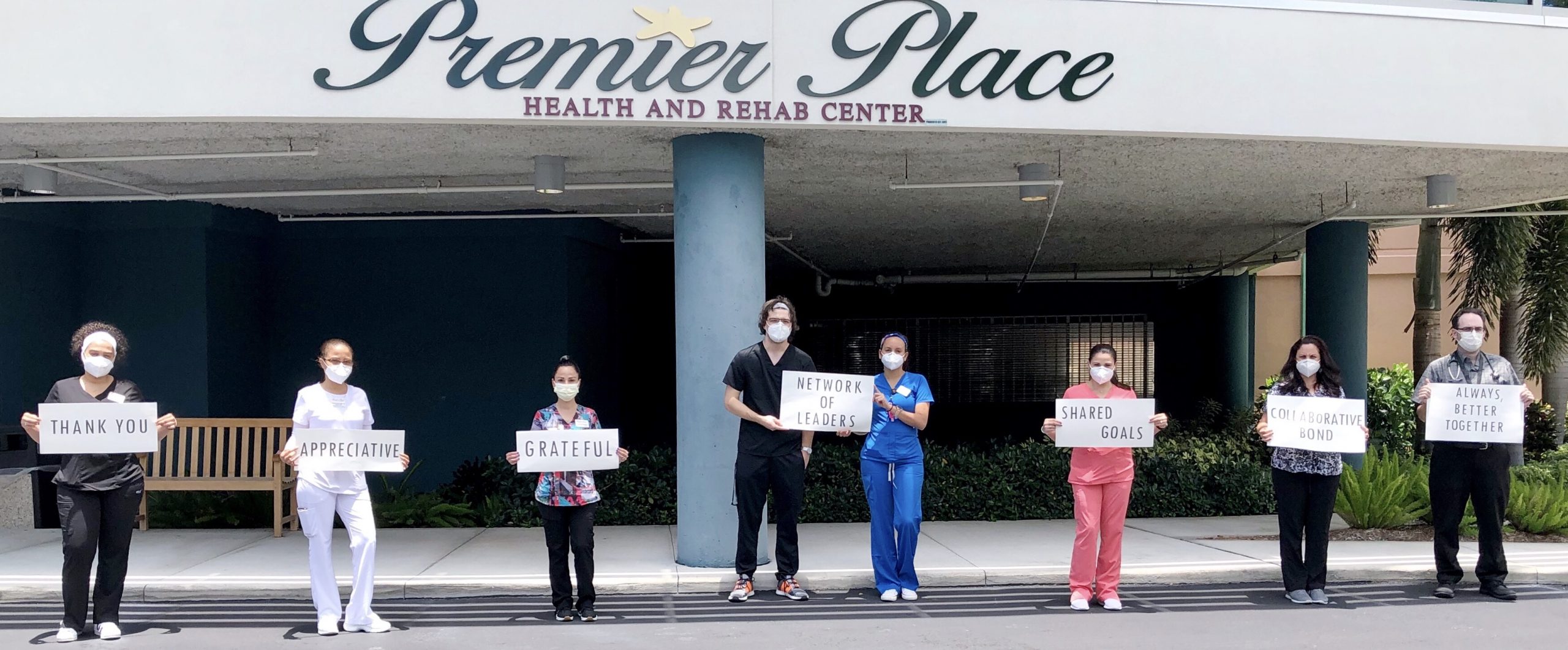 Real Heroes—Real Stories
#GlenviewStrong is best illustrated by the stories of employees who have recently gone out of their way in service to the patients and clients of Premier Place at The Glenview. Here are two inspiring stories that illustrate a dedicated team focused on hospitality, service, opportunity, uncommon business sense—and, most importantly, always putting its residents first.
Pat Tungett, Activities Coordinator, Premier Place
Armistead Courtenay and Shirley Rogers live in Premier Place, The Glenview's skilled nursing and rehab health center. This past June 1st was a big day for them as they celebrated their 71st wedding anniversary—in the midst of a nationwide health crisis, no less. "But we MUST celebrate," said Activities Coordinator Pat Tungett.
No task is too large for Pat who stared down the COVID-19 pandemic to make sure the day was celebrated safely and in grand fashion. Family and friends could not participate in person with Courtenay and Shirley, but Pat made their day memorable by arranging for FaceTime calls to each of the Rogers' five children, an enjoyable recitation of news headlines from June 1, 1949, numerous gifts, cards, flowers and plants, and a special lunch with cake for the fully decked-out couple. Balloons floated above and the Rogers' favorite song played in the background as invited staff of The Glenview and Premier Place captured the festivities in photos and video to share with delighted and appreciative family members.
The Premier Place Professional Nursing and Care Team
Long-term care is LONG term. And if your medical need calls for focus and attentive, professional care, the team at Premier Place will treat you like family for as long as you need their help. This is just one story shared with us by Martin, a very appreciative husband whose wife Kay had been battling a long-term debilitating medical condition for the past 42 years. "We have experienced many hospitals and rehabilitation centers, and I can say without question that Premier Place has provided us the best care and attentive support," says Martin.
Kay was a resident of Premier Place for 81 days. During that time, Martin shares that his wife was treated as one would care for a "mother or sister—like family." The caregivers at Premier Place were able to internalize Kay's medical hardships, and—every day—they made her feel more comfortable and special. "The registered nurses on the Premier Place Team are professional, yet so approachable," says Martin. "They are willing to listen and to thoughtfully consider the concerns and opinions brought forth by the patient and/or family. They get to know their patients and take an active role in individual patient care on a daily basis. I'm so impressed with the overall quality and capability of the Premier Place nursing staff—a real testament to the leadership and efforts of a top-notch healthcare organization."
Award-Winning Care—Forward-Thinking Design
In addition to exceptional care, The Glenview's Premier Place was honored for outstanding architecture and design in 2018 at the Senior Housing News Architecture & Design Awards. The competition evaluated more than 90 projects across the United States. Only eight winners were selected. The judges considered innovative design elements, community integration, amenities, and lifestyle features, among other factors. Premier Place was honored in the post-acute/skilled nursing category. Take a video tour of Premier Place to experience for yourself the award-winning design—the result of an $11 million renovation project completed in 2017.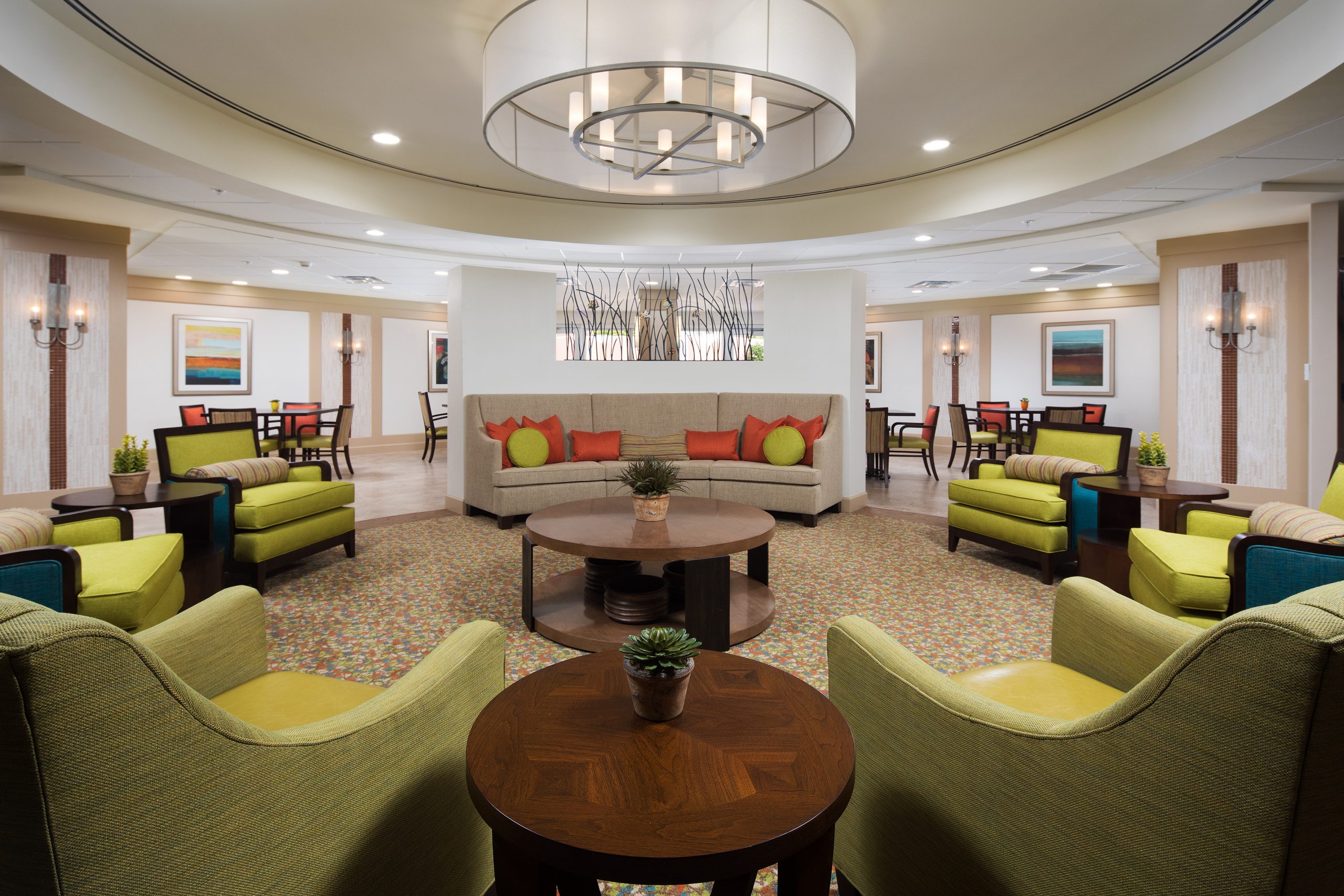 A Final Word
The Glenview is managed by Life Care Services (LCS) who for the last three years has awarded our staff its prestigious Harrison Award for high scores in employee commitment and engagement. "I envision that #GlenviewStrong is here to stay, thanks to our outstanding staff," says Executive Director Noonan.
Watch for #GlenviewStrong Part 3: The Heroes of GlenCare Home Care Agency—Live on The Glenview website in late September.
Want to Know More about The Glenview?