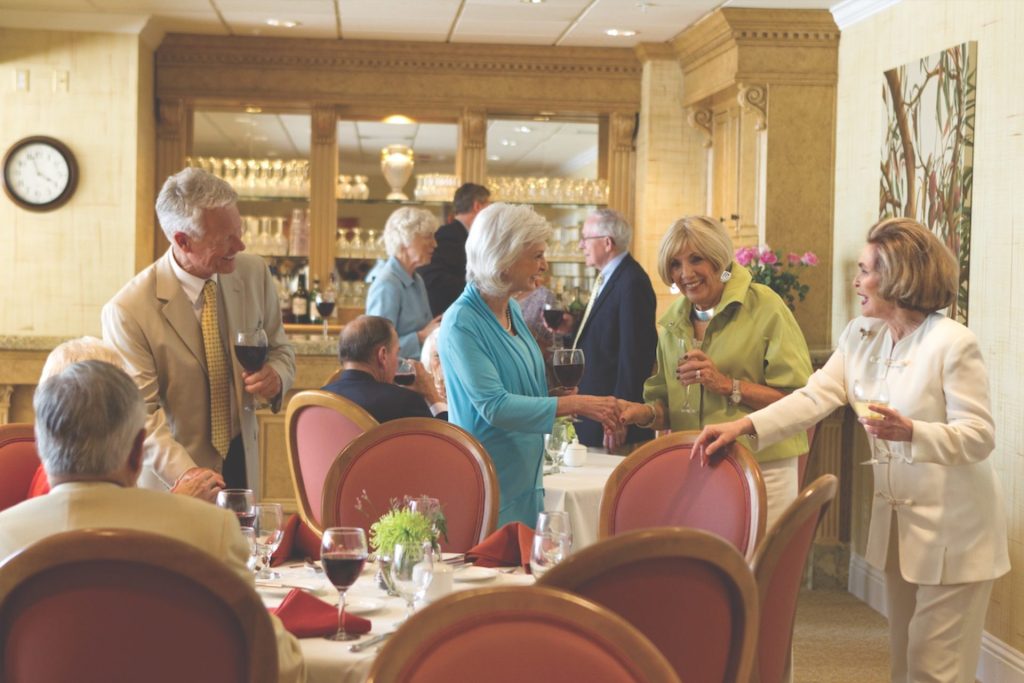 Sharing Your Senior Living Lifestyle with Family and Friends.
Everyone's a winner when you're a resident at The Glenview at Pelican Bay. Your family. Your friends. As guests and visitors, they can all enjoy your incredible senior living lifestyle.
Three Things That Make Your Home at The Glenview Great for Entertaining
#1 Homeownership. Several incredible elements make it so easy and rewarding to entertain at The Glenview. First of all, we can't emphasize enough the benefits of homeownership you'll enjoy at Florida's only equity ownership, LifeCare Community. This is YOUR home and you have ultimate control of a lifestyle that includes services designed to be attentive to all your needs. When you're comfortable and content, it's just that much easier to share your happiness with those closest to you. Invite them for a visit!
#2 Location. The Glenview's location in Naples, Florida—near all your favorite places—is a true magnet for visitors. It's just plain fun to show people around Pelican Bay and Naples—bursting with small-town warmth and charm and filled with the vibrancy and cultural wealth of a big city. And then there's the special attraction of an oceanside home surrounded by nature—water, wildlife, lush tropical flora—and a gorgeous, three-mile-long private beach right outside your door.
Your guests and family members will enjoy the numerous other opportunities to engage in activities around Naples such as boutique shopping, dining, and the arts—the nearby Artis-Naples is home to the Naples Philharmonic and The Baker Museum. And The Glenview's location facilitates easy access to canoeing, kayaking, fishing, sailing, and, of course, golf, golf, golf at nearby clubs like Club Pelican Bay, The Ritz-Carlton, Pelican Bay Golf Resorts, and more.
#3 Services, Amenities, and Activities. The wealth of onsite services, amenities, and activities at The Glenview makes it a breeze to welcome family members and guests into your home at any time. If your guests are coming from out-of-town, The Glenview's chauffeur service is available for transportation to the community from the airport.
Delicious meals and flexible dining options are available to you and all your guests at The Glenview. Locally, the word is out about the community's award-winning culinary program. Its sought-after events and dining rooms are quite popular with residents in the area looking for a delicious, satisfying, and extraordinary dining experience. Your guests will love it, too—along with the culinary team's tailored meals for special events (birthdays and anniversaries) with your family and friends in the community's private dining rooms. And don't forget about the wonderful desserts and snacks the Team will prepare and deliver to your residence for your card group or the poker gang!
We must mention here the relaxing entertainment your guests will enjoy at the community's newly renovated pool deck. The Glenview is a very family-oriented community, so of course, your guests and family members can swim in our pool and use the spa during specific hours. We welcome great-grandchildren, grandchildren, and children! Eat outside next to the pool in our gazebo under a ceiling fan that keeps the air refreshed and everyone happy during their visit.
And there's more! Homeowners at The Glenview are automatically members of the Pelican Bay Foundation allowing private access to Pelican Bay Beach and nearby Club Pelican Bay and Community Center—a social hub offering social, cultural, and educational opportunities for residents of The Glenview, their guests, and visitors. Additional activities here include tennis, an art studio, bridge, mahjong, and chess groups, and a fitness/wellness center offering aerobics, Pilates, yoga, and spinning classes.
Activities for Seniors Who Want to Entertain Guests in Their Retirement Community
Because we consider it our mission to be a senior living resource for all residents in the Naples community, we'd like to close with a few more easy ways you—as a senior—might entertain guests, visitors, friends, or family members if you are living in a retirement community. The following thoughts are in addition to those included above. Most ideas on this "party planning checklist" are meant to be general, but a few are specific for our homeowners at The Glenview.
WITH YOUR FRIENDS
A Seasonal Holiday Party. Reserve a private dining room in your community, invite your friends, make plans with the Chef, and have an Oktoberfest, getting a jump on all the 2022 year-end festivities.
A Spa Day with the Girls. Your community may or may not have onsite spa services, but in any case, there's probably a nearby salon that would be willing to send a clinician to your senior living residence for a fun afternoon of hair and nails with the girls.
Walk It Off. Call a friend or two for a "group walk." If you're at The Glenview, the campus and its trails are beautiful! Spending time talking, and just moving. The activity will help lower heart rate, blood pressure, and stress levels, too.
WITH FAMILY
See the Lights. If family visits you in Florida over the December holidays—and they probably will!—plan one evening when you hire transportation services (or your community's chauffeur) to take your group around the city to see How Naples Celebrates the Holidays.
Movie Nights. Always popular. Pick out more than one at your nearby video library (or select from one of your streaming plans). Order popcorn and snacks from dining services.
Remember When? Reminiscing over old photos is a great way to entertain family when they visit. You never know what stories or memories your older adult children will be inspired to share. And the younger kids in your group will really get a kick out of it!
WITH CHILDREN
Shelling & a Picnic. If you live near the ocean, take your grandchildren shelling on the beach; have the Chef prepare a picnic lunch for you.
Show & Tell Video Chats. If your grandchildren are far away, it's important to maintain a connection with them. Video is a great substitute for an onsite visit. Set a theme for your chat and have each child share something he/she has created or accomplished.
Fun & Games. When children come to visit you, it's a good idea to have a puzzle or game ready to go—something you can all do together to help you bond and keep everyone happily engaged.
Visit us at The Glenview soon to see all of our amenities and more. You'll see why seniors love living at and entertaining friends and family here! Contact us.