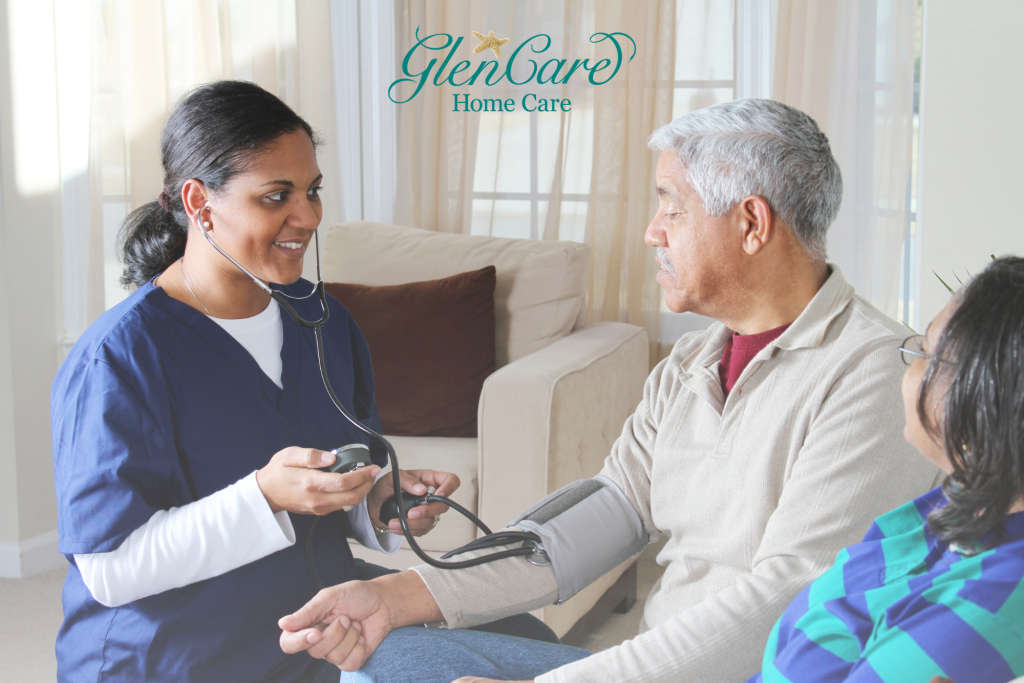 Providing Unsurpassed In-Home Care in Naples to Collier and Lee Counties
For more than 20 years, The Glenview at Pelican Bay has offered older adults unparalleled senior living in beautiful equity-owned residences surrounded by resort-inspired amenities and supported by convenient services, including exceptional 5-star care. It's not a wonder that The Glenview as a LifeCare Community has become known as a trusted health care resource for area seniors, such as in-home care in Naples, Florida.
One of the entities that make The Glenview such an extraordinary asset to the surrounding area is the community's GlenCare Home Care Agency, offering unsurpassed in-home care in Naples and for those living in Collier and Lee counties.
It's All About Safety And Security
Everyone wants to age well as they grow older. Feeling safe and secure in your surroundings knowing that personalized assistance and supportive care are available whenever you need it goes a long way in fulfilling these desires for aging successfully. This is where GlenCare delivers. Cheryl Holderfield, Director of Nursing for GlenCare, best explains the agency's mission, "We believe everyone has a right to age-in-place if they wish. It is our mission to support this desire by helping our in-home care clients feel informed, educated, and supported throughout the aging process."
GlenCare's In-Home Care Services
Cheryl shares that currently GlenCare Home Care Agency (GlenCare) has clients who live at The Glenview and many clients who enjoy their supportive care services directly from their homes in the surrounding Naples area. So GlenCare is not just for residents who live at The Glenview. Let's take a look at some of the services offered by GlenCare.
The home care services of GlenCare have evolved over the years to include the following, each with a full menu of services based on your personal needs or those of your loved one.
GlenCare Home Care Agency
Convenient, essential, and supportive care by certified nursing professionals and home health aides whenever and wherever you need it—home, hospital, skilled nursing center, etc. Request the services you need following surgery or regular nurse visits, medication management, wound care, breathing therapy—several hours per day or even around-the-clock care seven days per week.
Heartfelt Connections—A Memory Care ProgramTM
This is a specialized program designed to enhance well-being and safety for those with cognitive concerns while under the care of trained memory care professionals. The program enables the client to achieve the highest quality of life and level of functioning while maintaining dignity.
More In-Home Care Details That May Be On Your Mind
Every client has different care needs. GlenCare's fully licensed expert clinicians—case managers, registered nurses, licensed practical nurses—can help you navigate the healthcare system.
At GlenCare, you will have a team of experts ready to answer your questions, assess your care needs, and create a personalized in-home care plan for you.
In addition to providing healthcare assessments, clinicians can conduct home safety and fall-risk assessments, and more, making life easier and healthier for you.
Services also include talking with doctors and scheduling lab tests and medical appointments.
GlenCare offers all services on a short-term basis, for regular visits, even 24-hour care.
A 24-hour on-call nurse is always available at GlenCare to discuss your care needs and answer your questions.
GlenCare's Community Outreach In Naples
You can see that GlenCare Home Care Agency is a valuable resource for seniors living in the desirable Naples area, as well as for their families—especially if those family members live a distance away from their loved one. As Cheryl shares, "The last year and a half has been a stressful time filled with uncertainty. Keeping healthy and safe is on everyone's mind, and during this time of social isolation, the mental health benefits that in-home healthcare workers provide cannot be overstated." The community, residents of Naples, and their families greatly benefit from GlenCare in other ways, as well.
Educational Resources and Training
For potential clients and their families, along with existing clients, GlenCare offers a popular web-based educational series as part of its community outreach program. At this time, The Glenview has been unable to invite guests into the community, so educational programs that follow the national health awareness calendar are presented via ZOOM on the following Tuesdays (1-2 pm) for the remainder of 2021:
October 19 – Healthy Aging/Fall Awareness for Aging at Home
November 16 – Diabetes Awareness to Include Diet and Exercise
December 21 – Flu Season and other viruses. Tips for Avoiding.
September's presentation was on pain triggers and pain management, and other 2021 topics included glaucoma and eye care, heart disease, managing stress, home environment safety awareness, and sun and UV protection. Watch for these popular topics to be repeated in 2022 along with new subjects. Mark your calendar and contact us with your questions about connecting to these educational ZOOM presentations.

Walk to End Alzheimer's
The Glenview as a community will participate in the annual Walk to End Alzheimer's – Collier County, FL, on November 13. Held annually in more than 600 communities nationwide, the event is the world's largest to raise awareness and funds for Alzheimer's and dementia care, support, and research. Come walk with us! Together we can make a difference, please donate to Team Glenview here.
For more information about Team Glenview and 2021 Walk to End Alzheimer's, please call Ana Marques at 239-431-2655.
2-Day Annual Flu Vaccine Clinic
GlenCare hosted its 2-day annual Flu Vaccine Clinic again this year during the third week in September. Since no area clients from surrounding areas were brought into the community, the GlenCare staff assisted off-campus clients in getting to their Walgreen partner's site for their flu vaccine. (COVID vaccines —and boosters, when initiated — will be coordinated weekly with GlenCare's partner, CareOne.)
Find out more about In-Home Care in Naples this month…
Contact us today to set up a personal consultation.