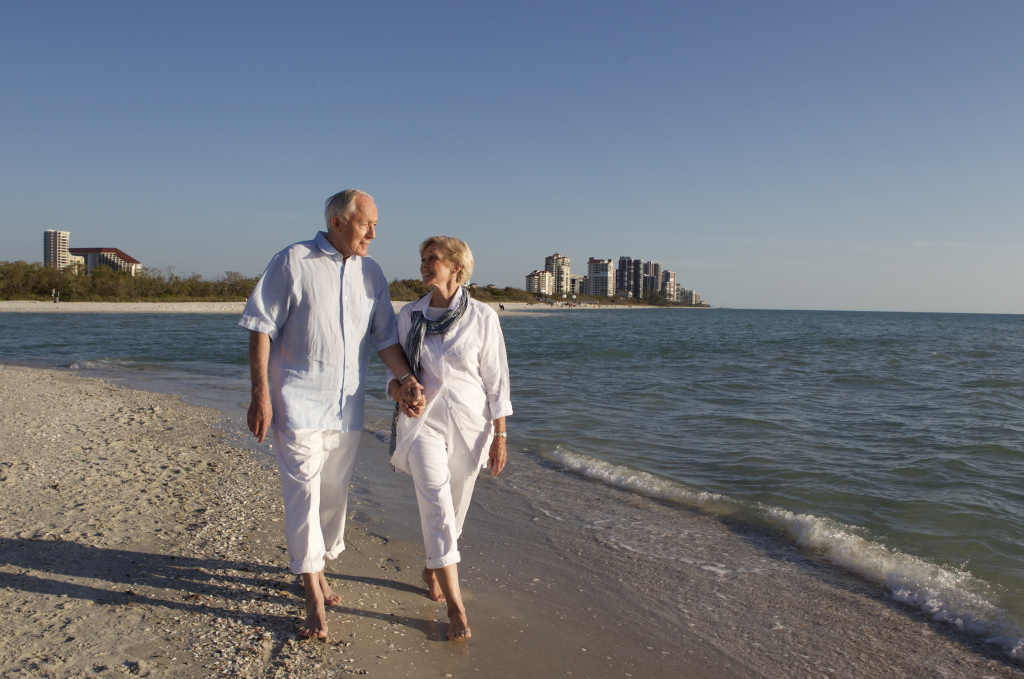 What To Expect…
If one of your current goals is to secure a senior living community for yourself or a loved one, you are certainly not alone. These days, many forward-thinking adults have the same goal. Some say our most recent hiatus from "life as we knew it" has caused them to think a little more about finding the perfect senior lifestyle for the future. So, what are these practical planners looking for? At The Glenview, we're discovering there's an increased emphasis by potential buyers on a living environment that fosters overall wellness and a healthy, active lifestyle. To us, this means LifeCare living, and we're so pleased to be your professional resource for this incredible lifestyle. Read on to learn more about The Glenview's LifeCare offerings!
You Own Your Residence At The Glenview.
The Glenview at Pelican Bay delivers the LifeCare lifestyle of health, wellness, activity—and so much more. As your senior living resource, we're going to lay it all out for you here. We respect the importance of your individual search and want you to have a good understanding of what a LifeCare community offers.
But first, there's one major benefit we'd like to clarify that sets The Glenview apart—equity ownership. If you always planned to own your home—to age gracefully in place surrounded by everything that is yours—The Glenview is a perfect choice. As a nonprofit, equity-owned, LifeCare Community, The Glenview is the first and only one of its kind in all of Florida. Our community is designed for seniors who've always owned their own home, want to continue to do so, as well as benefit from the appreciated value when their home sells. Now, with that as our starting point, let's review the LifeCare community offerings you might look for as you continue your senior living search.
Let These 4 LifeCare Community Offerings Be Your Guide.
1. More Services, Amenities, and Socialization Opportunities.
LifeCare communities offer on-site resort-style services and amenities through payment of a monthly fee. Some communities will require an entrance fee for your residence. But remember, at The Glenview, you purchase your home, so there's no entrance fee. You simply pay a monthly fee to cover amenities that include:
comfortable community living spaces for socializing

 

fitness centers

multiple dining venues

comprehensive services like housekeeping, inside and outside maintenance, and scheduled transportation

programs, activities, social events, and educational presentations

live entertainment
As an added benefit, equity homeowners at The Glenview enjoy amazing privileges. These include membership to the Pelican Bay Foundation, private access to Pelican Bay Beach, and membership to Club Pelican Bay, which includes the elegantly appointed, 25,000-square-foot Pelican Bay Community Center. 
The Community Center serves as Pelican Bay's social, cultural, and educational hub. Here you'll find:
tennis facilities
a Pro Shop
art studio with a varied selection of classes
social, cultural, and charity events
computer classes and workshops
bridge, Mahjong, and chess groups
a state-of-the-art fitness and wellness center
private and group trainers
These are just a few of the special privileges you'll enjoy as a resident in one of the most prestigious communities in Florida.
Also, at The Glenview, we're inaugurating a special amenity this year—a new outdoor swimming pool and sundeck. Against a beautiful backdrop of water, nature, and three miles of pristine beaches, this is the perfect place to meet and dine with neighbors and friends. These are other offerings you should look for at LifeCare communities—inviting, supportive environments that foster the development of great friendships with fellow residents. Follow all the activity and socialization at The Glenview by visiting our Facebook page.
2. Reduced Responsibilities.
As one ages, the management of private in-home services is a risky and difficult task that truly motivates many seniors to make the move. Home upkeep and repairs can be checked off your To-Do List in a LifeCare community such as The Glenview. 
All the services and amenities mentioned above are generally included in a monthly fee in LifeCare communities. The resident has much less to worry about and a lot more time to engage in social activities, educational pursuits, dining with friends, and exploring new interests within the community.
3. A Worry-Free, Independent Future.

LifeCare communities offer a continuum of care on-site. You know who will provide your care, where it will be provided, and depending on the type of community, how much it will cost. This is a welcome relief for residents and their families throughout all stages of life. 
"As an equity owner in The Glenview LifeCare community, you never have to worry about where you'll turn for healthcare," says Krisandra Panting, Director of Marketing and Sales. Two health service companies—Premier Place, a 5-Star health center, and GlenCare Home Care services—operate right on site at The Glenview. Recently, a health service benefits at The Glenview was our access to the COVID-19 vaccine. Unlike other senior lifestyle communities in the area, everyone who lives at The Glenview has been vaccinated.  Your health and safety is of great importance at The Glenview.
Planning in advance can make a world of difference to you or your loved one. Plus, it can give you greater control of your future and your asset protection—a valuable benefit should you choose LifeCare. Read more here to learn about the truths vs the myths of senior living and the true benefits of a LifeCare Community. 
4. Lifestyle Opportunities.

Where you live has everything to do with how you live! Consider the location and the surrounding neighborhood of the community that you or your family is considering for a fulfilling future. Community and connection are so important to one's health and well-being, and LifeCare communities realize and take advantage of their surrounding neighborhoods in their programming.
When you make The Glenview at Pelican Bay your home, you take advantage of all the perks and privileges of living in Naples and the Pelican Bay community. Our recent blog outlines The Perks of Pelican Bay Living—and you'll want to join in the fun!
Ownership at The Glenview provides a peaceful, innovative environment in which to live, surrounded by the beauty of nature—soft, sandy beaches, wildlife, water, and lush tropical flora. And you also have the opportunity to enjoy the fun and inspiration of Naples' many cultural, entertainment, and recreational opportunities with family, friends, and new neighbors.
Are The LifeCare Community Offerings At The Glenview A Good Fit For You?
We have 2 simple steps to find out:
Step One: Take The Glenview PARADE OF HOMES tour.
Many beautifully appointed residences (18 different floor plans and penthouse options) can be personally decorated to your tastes and needs. Take advantage of our Virtual Parade of Homes from the comfort of your home and enjoy a special tour of our beach community and luxurious residences. 
Step Two: Schedule a virtual or in-person tour.

Follow up your Parade of Homes tour with a virtual or on-site appointment. Schedule a time that works best for you by calling (239) 431-2587 or contact us online.