Marci Bevacqua embodies a healthcare philosophy that perfectly characterizes the entire staff culture of care and service at Premier Place Health & Rehab Center at The Glenview at Pelican Bay.
"My goal is to treat each resident as if they are my own loved one, as well as going above and beyond at all times," says Marci, who's been Social Services Coordinator at Premier Place for just over two years. "I work to put residents' and their families' minds at ease and to assure them I will put all needs and services in place both while they're residing within our community and upon returning home."
In addition to her incredible dedication and empathy for patients and their families, Marci brings to her role at Premier Place an unequaled professional background built on education and experience. She holds a Bachelor of Science degree in human service from Florida Gulf Coast University in Fort Myers, and prior to coming to Premier Place, Marci served for 13 years as Director of Social Service at Heritage Healthcare & Rehabilitation Center in Naples. She and Rick, her husband of 14 years, moved from New York to Naples in 2001. They have one son, Frankie, who's four years old.
A Local Connection
Marci's solid local connection makes her a perfect fit for a Premier Place Team. The Health Center's goal is to help all its patients recover and thrive. Specifically, Marci supports Premier Place residents, not only as they reside within the community, but also when they're discharged to return home. "What I love most about working at Premier Place," Marci says, "is that we are a true team. We all work together to give our residents the best care and experiences while they're in our community."
"When a patient is discharged, I set up any support services they need—for instance, home health, a visiting nurse and/or therapy. I assist residents with locating any private duty services needed, as well as setting up any outpatient therapy services if they do not want home health care. I work closely with Ana Marques our Health and Wellness Navigator who actually does the one-on-one follow-up after discharge from Premier Place Health Center." Marci emphasized that she always makes sure a patient has her contact information so, if there are questions or concerns, she can help them.
"The favorite part of my day," says Marci, "is getting to interact with the residents, making a difference in their lives even in a small way—and learning from my co-workers, as well."
Award-Winning Care
As a Lifecare Community, Premier Place at The Glenview represents the healthcare and rehabilitation entity of this exceptional senior living model. This means residents benefit from the award-winning care of Premier Place Health Center regardless of their level of living at the time of entry to the community.
At Premier Place, an experienced multi-disciplinary team of nurses, therapists and aides specialize in therapies designed for seniors to make every healing moment matter. It's a team that works closely with you, your family, your doctors, and caregivers to provide the support you need throughout your entire recovery. Additionally, spacious private rooms, chef-prepared fine dining, and a mix of social, educational and spiritual opportunities contribute to the overall healing experience.
With dedicated staff members like Marci, it should be of no surprise that Premier Place is frequently recognized as a trusted, exceptional source of care. In fact, it is the preferred skilled nursing care and health and rehabilitation center for Naples community hospitals. For the past three years, Premier Place has received a 5-star rating from the Center for Medicare and Medicaid Services. Plus, Clinical Outcomes Studies rate the community one of the highest in the area for nursing care—by far outperforming other such communities. In addition, the overall planning and design of Premier Place received recognition for its forward-thinking elements.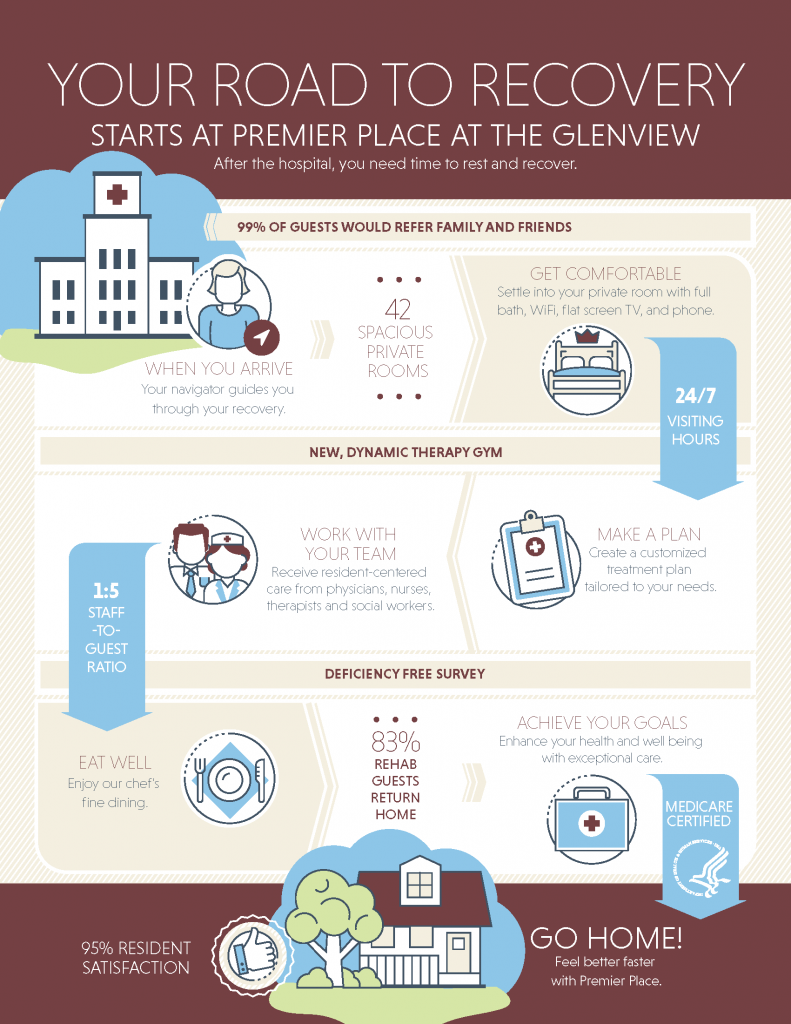 Tailored Rehabilitative Services
What makes Premier Place a phenomenal choice for those seeking rehabilitation therapy? Marci says, "Our therapy staff is the best of the best. They work to return all of the residents to their prior level of function. The care provided is one-on-one by a staff of more than 40 health professionals and tailored toward the individual resident's needs."
The holistic, patient-centered rehabilitative services and levels of care offered include:
Post-acute rehabilitation in one of 42 spacious private rooms.
Physical, occupational and speech therapies.
Orthopedic rehabilitation, specializing in joint replacement.
Neurological, cardiac and pulmonary rehabilitation.
Long-term skilled nursing care, respite, and hospice care.
Specialized therapy treatments, including pain management, and interactive metronome and vital stim.
All of these services are provided in the professional surroundings of a dynamic therapy gym at Premier Place.
Need help navigating your experience? Our Road to Recovery infographic is designed to give you an idea of what your personal recovery experience may be like as a patient at Premier Place. Specifically, this resource will give you an even better idea of the services and care offered by Premier Place Health Center.
Closing Thoughts from Marci
Because Premier Place is part of The Glenview at Pelican Bay, a Life Care Services (LCS) community, on-the-job professional advanced training is made available to Premier Place staff members. Marci has taken advantage of these opportunities to stay up-to-date and relevant in her field. "Most recently, I attended a 3-day training given virtually by LCS," she says. The training was not only informative but LCS also conveyed how much they appreciate each one of us. I enjoy being part of The Glenview and Premier Place Team. I look forward to growing and learning in my career here."
If you have questions about the services and care available to you or a family member at Premier Place Health & Rehab Center, we'd love to answer them for you. Contact us.