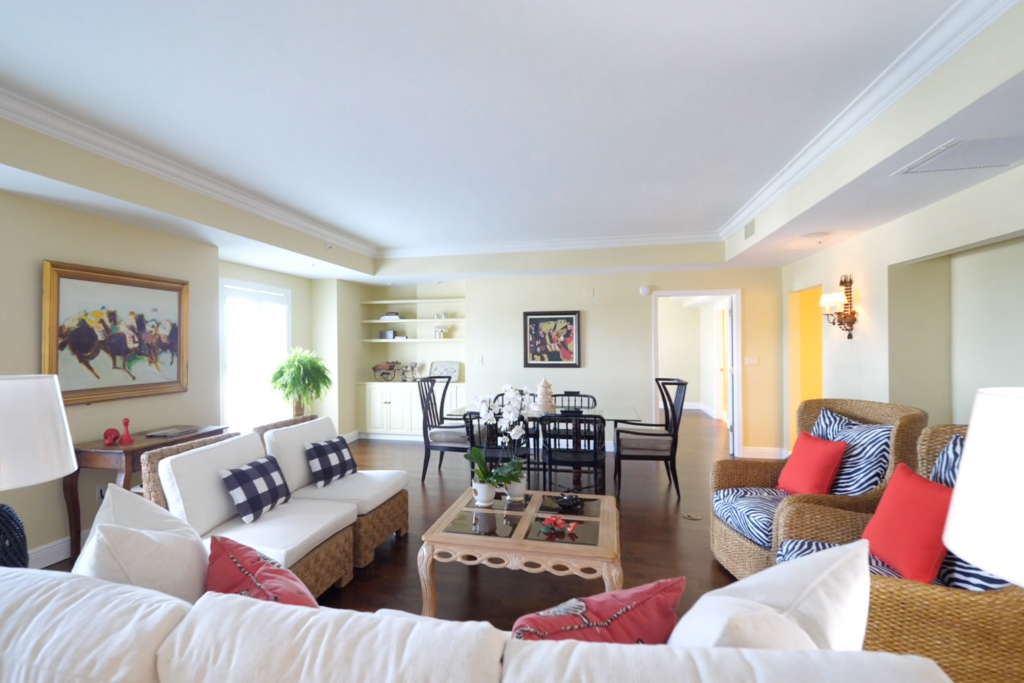 Spacious Floor Plan, Amazing Features, Incredible Lifestyle
The opportunity you've been waiting for in extraordinary retirement living awaits you in The 700 Montenero floor plan (The 700) at The Glenview at Pelican Bay (The Glenview), Florida's only equity ownership, LifeCare Community. The Glenview is where city meets the beach. And if you love birds, water, sand, walking on the beach—all things nature—coupled with the vibrant Naples lifestyle, you owe it to yourself to find out more about this incredible residence.
What sets The 700 Montenero floor plan apart from other residences? Let us explain. The ultimate control you have as a homeowner at The Glenview means you have the opportunity to make your home your own.
The former owner of The 700 has taken customization to the next level by updating and renovating this residence with the finest in quality materials and exquisite detail designed by a renowned local designer. More than $615,000 in upgrades have taken place in the last 2.5 years within The 700.
Here, we'd like to tell you—in detail—the story of this grand residence. But, first, view this special video to help you imagine what your life could be like in The 700 Montenero.
Spacious Floor Plan—Special Location
The 700 is the most recently updated of the five Montenero floor plans. This 3,100 square-foot residence is on the 7th floor of The Tower. Ironically, four of the five Montenero residences are occupied by single adults who are certainly not intimidated by the square footage and extra space this floor plan presents.
Numerous windows all around provide for sunny views to the north, south, east, and west, as well as gentle cross breezes throughout the entire residence when windows are opened. As a resident, you would have a beautiful southwestern view of the Gulf of Mexico and a southern view of Naples Shore, where the twinkling lights of Park Shore are magical at night. During the day, the 588 acres of preserve and park, Naples Bay, and Bonita will mesmerize you, and, on a clear day, you'll be able to see all the way to Sanibel Island.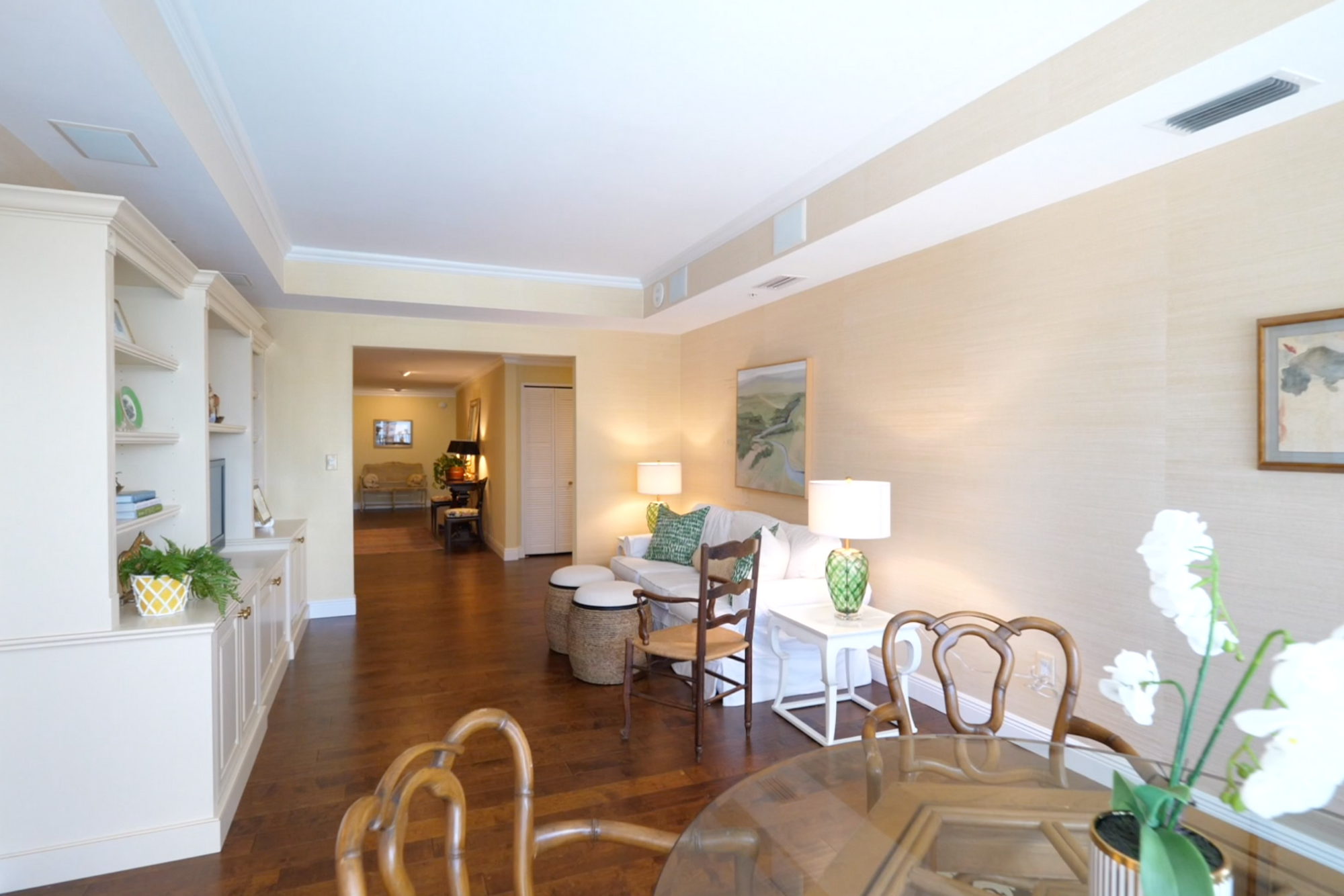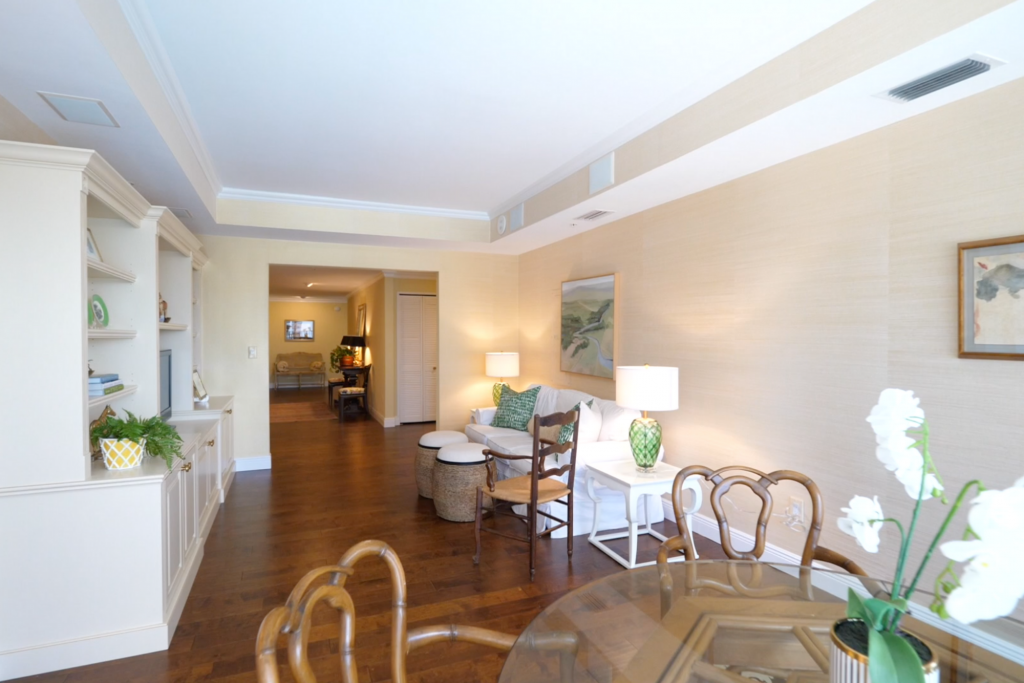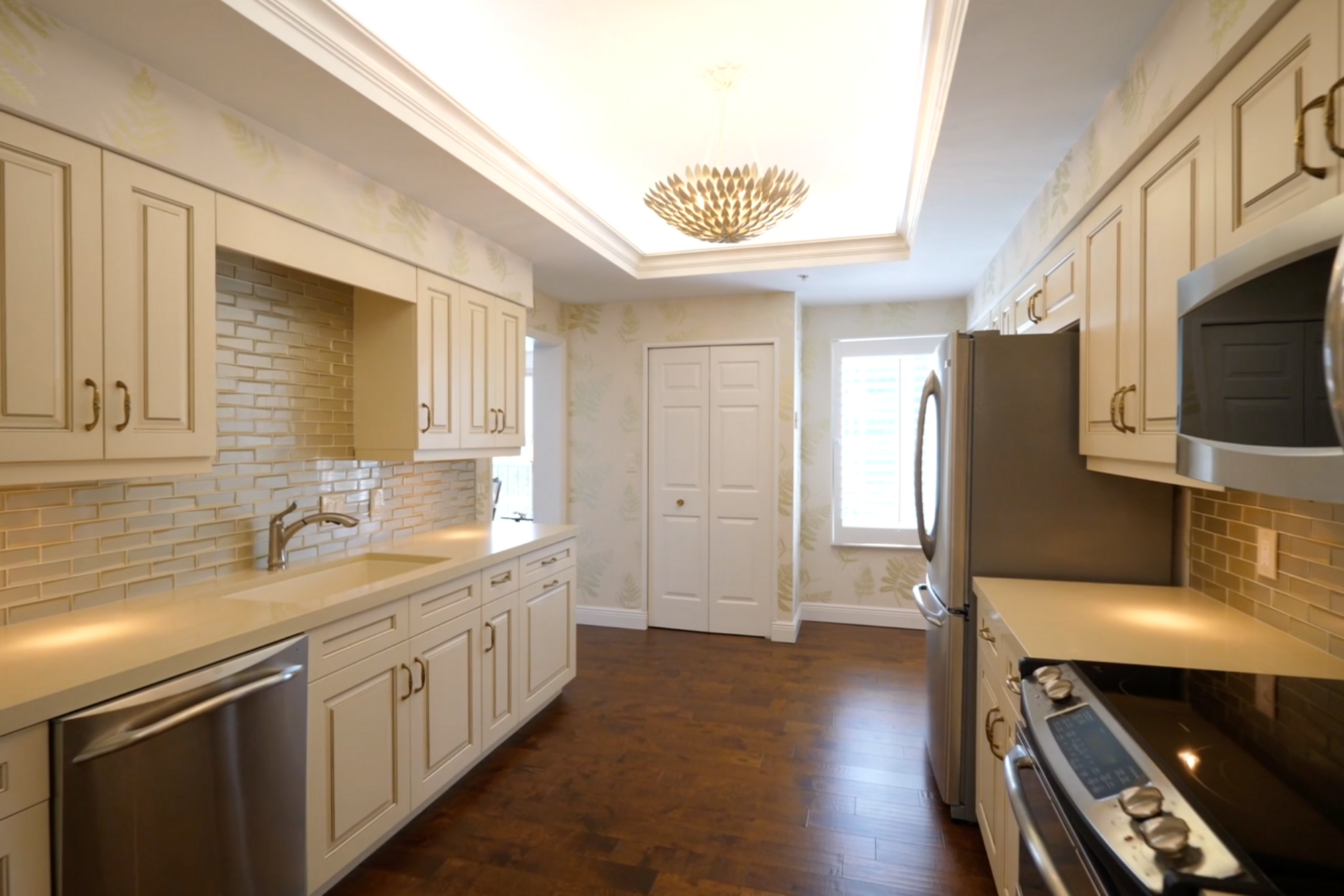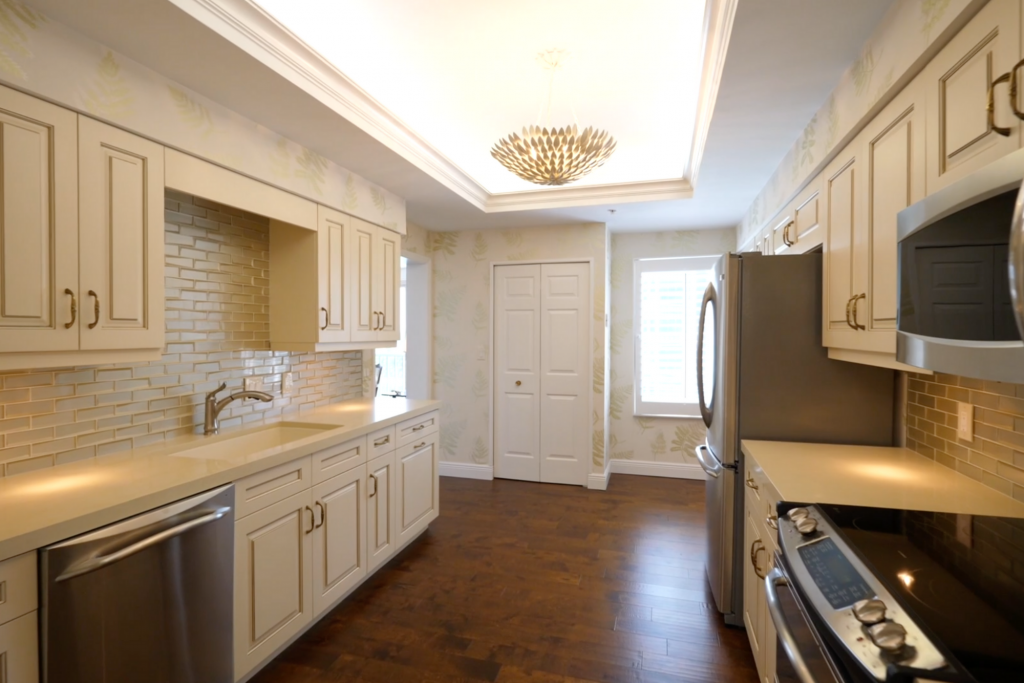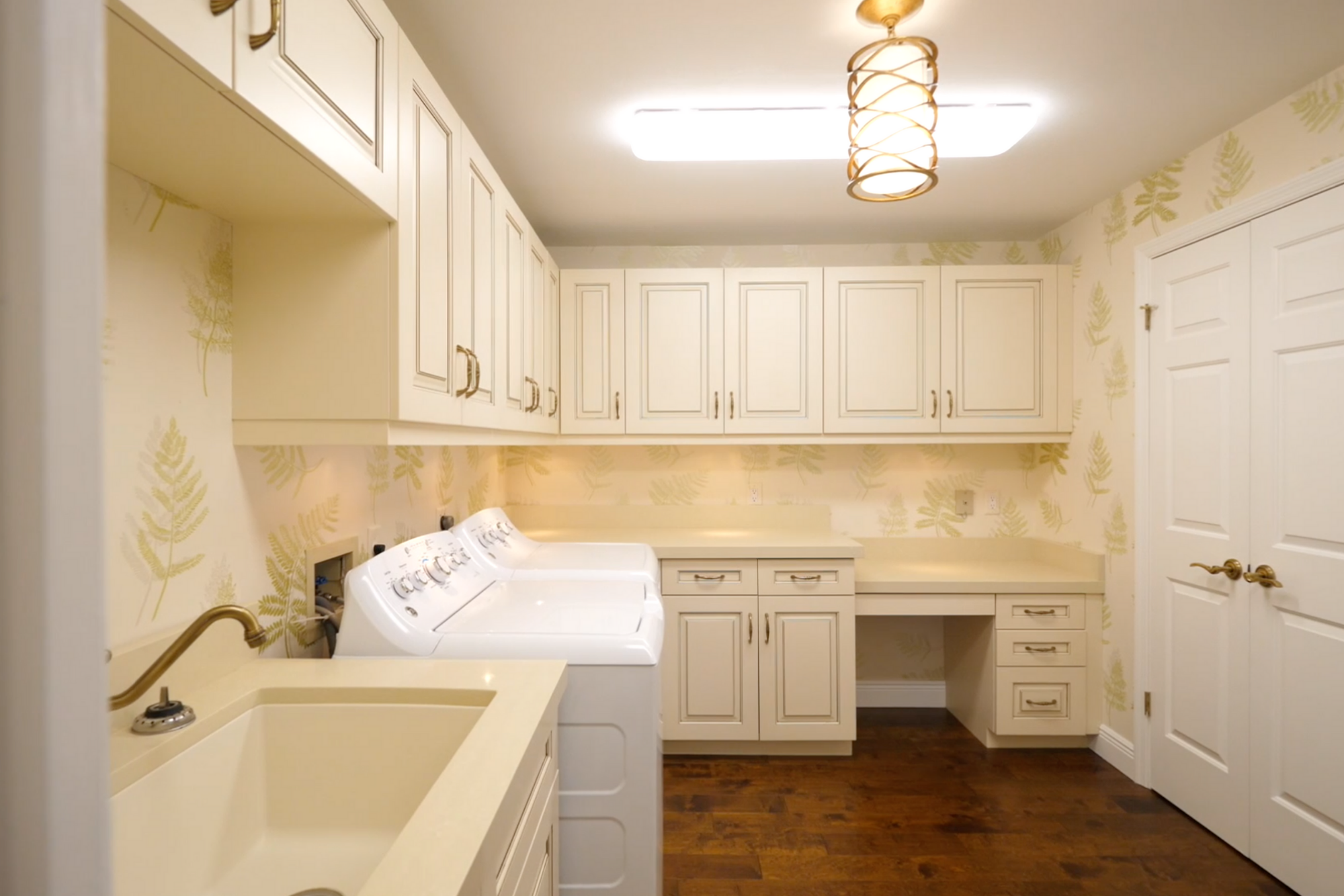 Enhancements, Features and Fixtures
The designer has added these upgrades and enhancements that make The 700 truly unique:
New hardwood floors throughout; ceramic tile flooring in the kitchen and bathrooms
Completely repainted expansive wall space (perfect for personal art collections)
High-quality grass cloth and other quality wallpaper treatments in the family room, kitchen, nook, bathroom and laundry room
Updated hardware on all newly repainted doors
Hanging and storage customization of all closets
Greatest amount of customized storage of any residence at The Glenview
Brand-new kitchen and bathroom cabinetry with quartz countertops, and modern glass backsplash
New kitchen and laundry appliances and bathroom fixtures
Large country-style sinks in the kitchen and laundry room
Custom lighting, lamps, and chandeliers
Numerous pocket doors for ease in traffic flow or management of areas when entertaining
Modern wet bar with new contemporary wine cooler
Brand new window shades and drapery treatments
Personal storage under air on second floor
Parking for each resident
Extraordinary Retirement Living
At The Glenview, you'll find the best-of-the-best. A professional staff with years of experience and a passion for service makes sure The Glenview residents love where they live and that their lives are every bit as amazing as planned. And, with access to 5-star skilled nursing and rehabilitation, if ever needed, including exceptional Home Care services, the luxury of true peace of mind is an invaluable lifestyle benefit.
Great services and amenities—including yoga and aquatics—offer opportunities for socialization, engagement, wellness, education, and more. A newly opened 3.4-million-dollar swimming pool surrounded by decks and gazebos with fans and lighting to accommodate entertaining is available to all residents and their guests. (One doesn't have to be a swimmer or in beach attire to enjoy this new amenity!) And, residents of The Glenview are automatically members of the Pelican Bay Community Center, the largest private athletic club in Naples offering even more socialization, engagement and entertainment.
The Glenview residents understand fine dining. The community's award-winning chef and his staff have created menus that are renowned in the Naples area. Fresh fish and vegetables are delivered six days per week and fresh baked goods prepared by a full-time onsite baker are available daily. Daily lunches and dinners are also served poolside. And a popular gathering offering socialization, cocktails and hors d'oeuvres, and great live entertainment takes place every Monday evening in The Glenview Room.
Chauffeured transportation services in unmarked luxury vehicles is another valuable service for residents of The Glenview. Scheduled easily for anywhere a resident needs to go—medical or professional offices, shopping trips, or entertainment events—it's a much-appreciated community service.
Learn More!
Learn more about the lifestyle you could enjoy as a resident of The 700 Montenero floor plan at The Glenview at Pelican Bay.
Call 239-431-2587 to begin the conversation.