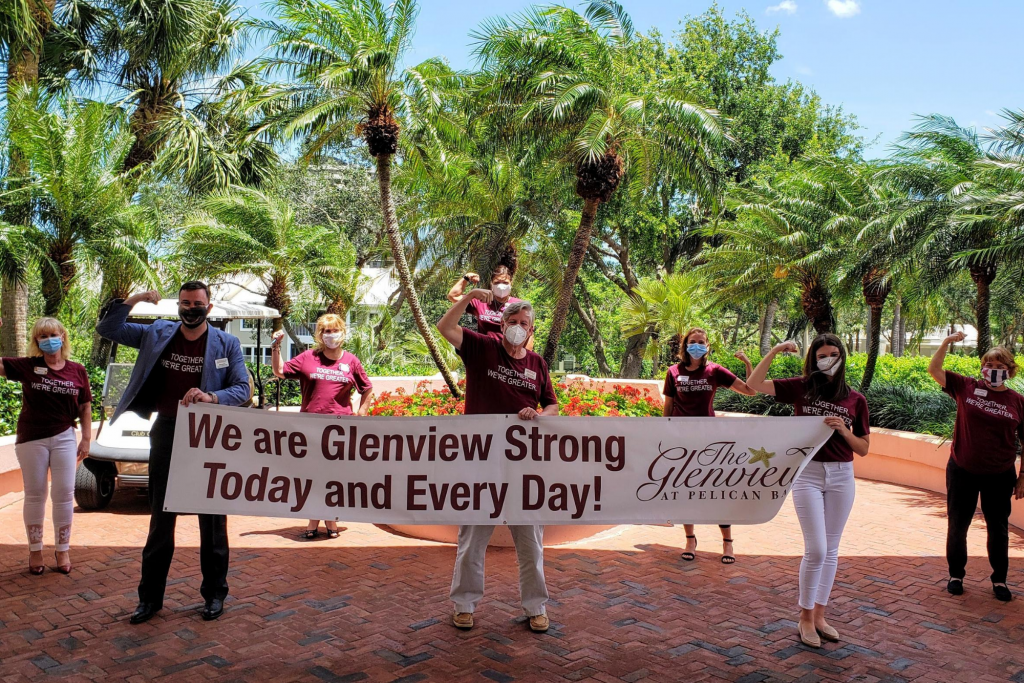 Part 1: A Community of Heroes
This summer, The Glenview at Pelican Bay is launching #GlenviewStrong, a campaign that focuses on The Glenview's resilient foundation and strength of character—past, present, and future. The campaign premieres with this blog—Part 1: A Community of Heroes—that explains the basis of our campaign and highlights the qualities of The Glenview staff and their dedication and heroism—the foundation of our success.
In August and September, we will share the personal stories of these heroes who give their hearts and talents to residents of Premier Place and clients of GlenCare Home Care Agency every day. You'll enjoy their photos and stories, and see why we proudly celebrate them, along with the growth of The Glenview over the years—and to come!
Strong through the Ages
The Glenview has a history immersed in strength starting with its inception in 1988. It was #GlenviewStrong then and has remained so throughout its 28-year history. As a well-established entity in Naples and an icon in the Pelican Bay community, The Glenview continues to be the only equity-ownership, LifeCare Community in Florida. The community maintains its strength today under the leadership and guidance of Executive Director Patrick Noonan and a dedicated team focused on hospitality, service, recognizing opportunity and uncommon business sense, and most importantly, always putting residents first.
Why #GlenviewStrong—Why Now?
Patrick best tells the story about the concept and development of #GlenviewStrong. "The idea blossomed during COVID-19. As a staff, we started thinking back over the last four years. Our team has been through so much in such a short time. A major renovation of our health center began in 2015 and finished in 2016, just after I arrived at the community. As is commonly the case, progress brings a certain amount of disruption—especially to residents who call The Glenview home. But Steve Hohler, director of building facilities, led a sensitive and understanding construction team who made sure this community revitalization went seamlessly with the least amount of inconvenience to our residents and the lifestyle they cherish.
"No sooner was our new health center complete than we were visited by Hurricane Irma. Naples and The Glenview sat right in the eye of 'Irmageddon', as the hurricane was called by local residents. We relocated the entire community to Orlando for three weeks. Our committed employee teams were with us every step of the way. They put in long hours and slept on cots. I'm convinced this team can do anything, and they are precisely who I want by my side for any and every disaster. They see the need and deliver with an extreme commitment to our seniors.
"I did not have to wait long for our next challenge. Basically, just as we were recovering from Irma, COVID-19 hit. The pandemic has put additional stress on our dedicated staff in the form of difficult personal situations and circumstances involving their own families. While taking care of all our seniors, they themselves are inconvenienced, especially in terms of food and personal supplies.
"Major construction. A hurricane. A pandemic. Three strikes in four years! This spring, we began emphasizing #GlenviewStrong and 'together we're greater,' regularly reminding our staff that we recognize their service and dedication to The Glenview. COVID-19, its effects and protocols are still with us. We've all learned to take this latest crisis a day at a time—watching out for our residents and each other.
What Qualities Make Up a #GlenviewStrong Hero?
When someone chooses to make The Glenview home, they're greeted by dedicated team members committed to making every resident feel welcome. "For these ambassadors, customer service forms their foundation, but hospitality—interacting with those you serve—rises above," says Patrick. "Anyone can say they have a willingness to serve, but hospitality takes them the extra mile. Our staff members speak and relate to people—with empathy." He says it's the niceties— like remembering a favorite steak sauce, sprinkles on your ice cream, or housekeeping preferences like the way you want your towels folded or your refrigerator arranged, and always with a greeting like 'How was your day?' or 'Let me get that for you.'—that make all the difference.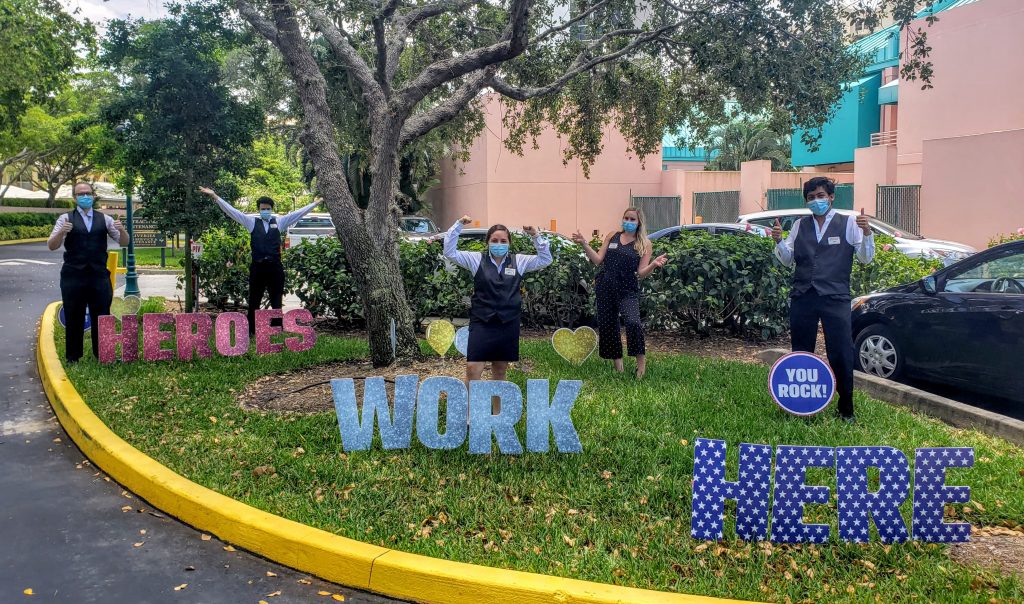 The Glenview's vision is to be the premier senior lifestyle community in Southwest Florida making a meaningful and measurable difference in the lives of those we serve through our dedication, graciousness, compassion, integrity, and quality of care administered by our staff. Many staff members have built careers working at The Glenview—some for decades now. This helps them provide higher quality service and build relationships with the residents. Caring and service-oriented, The Glenview staff are all first responders in the care of residents, guests, and clients. During the current pandemic, our residents depended on them to drive positive morale and support during a very unique time.
Positive, energized, and focused on doing everything they can to keep independent living residents, skilled nursing residents, rehab guests and home care clients safe, secure and well, The Glenview staff is bonded together by a common goal and a superior attitude. They love their jobs.
A Hero's Code of Ethics for #GlenviewStrong
Don't all heroes live by a code of ethics? Of course! At The Glenview, this code is called the Extraordinary Impression Promises:
Greet warmly – by name and with a smile
Treat everyone with courteous respect
Strive to anticipate needs and act accordingly
Listen and respond enthusiastically and in a timely manner
Hold ourselves and one another accountable
Make residents feel important
Embrace and value our differences
ASK: "Is there anything else I can do for you?"
Maintain high levels of professionalism and appearance
Pay attention to the details
The Glenview embraces Extraordinary Impressions and is proud to celebrate the service and dedication of our staff as illustrated in the photos here.

A Final Word from Patrick
"I envision that #GlenviewStrong is here to stay," says Patrick. "We continue to recognize our staff—individually, by department or as a group—and our residents appreciate them, too. The Glenview is managed by Life Care Services (LCS), who for the last three years has awarded our staff its prestigious Harrison Award for high scores in employee commitment and engagement."
Our management team, as well, is especially innovative and finds impactful ways to show appreciation to our staff—like Superhero Day, Heroes Work Here signage, and Hospitality Team communication. The hospitality and dedication of our staff will get us through all the tough times—be it upheaval due to construction, hurricane, pandemic—whatever comes our way. As they say: BRING IT!
Watch for #GlenviewStrong Part 2: The Heroes of Premier Place — Live on The Glenview website in mid-August.
Learn more about The Glenview at Pelican Bay on our website and follow us on Facebook for up-to-the-minute news and community activity. Call us at 239-431-2587 or register online for a virtual tour and/or conference with a representative.