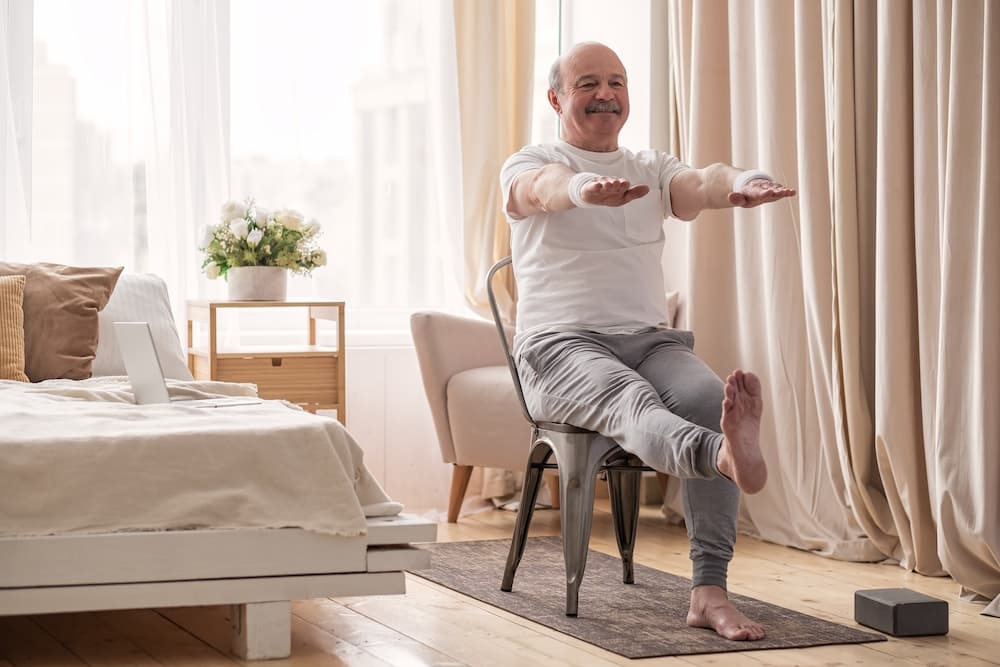 When it comes to staying active, there's no off-season for older adults. Dual-dwelling retirees who keep their bodies moving year-round—no matter where they're living—experience higher levels of happiness, satisfaction, and overall well-being.
And with exercise always in season, seniors can sweat anytime, anywhere. Many activities don't require equipment, a fitness facility, or an athletic trainer—they're workouts you can do close to home.
Streaming services and YouTube provide the convenience of exercising anytime and anywhere. SilverSneakers®, Senior Fitness With Meredith and NativePath are just a few resources offering free or on-demand exercise videos for active older adults.
Walking is a low-impact exercise that requires no equipment and is simple to do anywhere—whether you're getting your steps in by pacing your spacious apartment home or penthouse or strolling white sand beaches. Yoga, stretching, and resistance bands are other forms of exercise that can improve flexibility, balance, and strength, while gardening can also provide a good workout. Turning up your favorite tunes and throwing yourself an at-home dance party is a fun way to get moving, break a sweat, and improve cardiovascular health.
Seated to Strong: Seven Chair Exercises for Seniors
A sturdy chair with armrests is all you need to improve strength, flexibility, and balance. Here are seven seated exercises for seniors that you can do anywhere. Start each activity by sitting in a sturdy chair with your feet flat on the floor.
Seated leg raises: Lift one leg straight out in front of you, hold for a few seconds, and lower it back down. Repeat with the other leg.
Arm raises: Hold a light weight (or a can of soup) in each hand. Raise your arms straight to shoulder level, hold for a few seconds, and lower them back down.
Seated twists: Hold a light weight (or a can of soup) in each hand. Twist your upper body to the left, then right, keeping your hips facing forward.
Seated marches: Lift one knee toward your chest, hold for a few seconds, and lower it back down. Repeat with the other leg.
Shoulder rolls: Roll your shoulders forward in a circular motion, then backward.
Calf raises: Lift your heels off the ground and onto your toes, hold for a few seconds, and lower your heels back down.
Seated dips: Place your hands on the armrests, lift your hips off the seat, hold for a few seconds, and lower your hips back down.
Stay Active as You Age; Stay Young at Heart
As we age, moving our bodies becomes more important than ever before. It's no secret that staying active has numerous benefits. Regular physical activity improves physical health by reducing the risk of developing chronic health conditions such as diabetes, osteoporosis, and arthritis. By staying active, seniors can maintain independence and reduce their risk of falls.
Older adults who embrace an active lifestyle also have more opportunities to socialize and engage with others. Another mental health benefit includes reduced stress, anxiety, and depression. Studies also suggest regular exercise can improve cognitive function and lead to a longer lifespan.
All-Year Active Living at The Glenview
At The Glenview, we're committed to supporting active lifestyles, regardless of the season. Our health and wellness resources are always available, whether you live year-round on our beachside campus or are a split-season resident. And, when you return to your exclusive beach community in Naples, Florida, there will be even more health and fitness opportunities waiting for you at The Glenview — whether at home, on land, or in the water.
Featured Image: Koldunov / Shutterstock