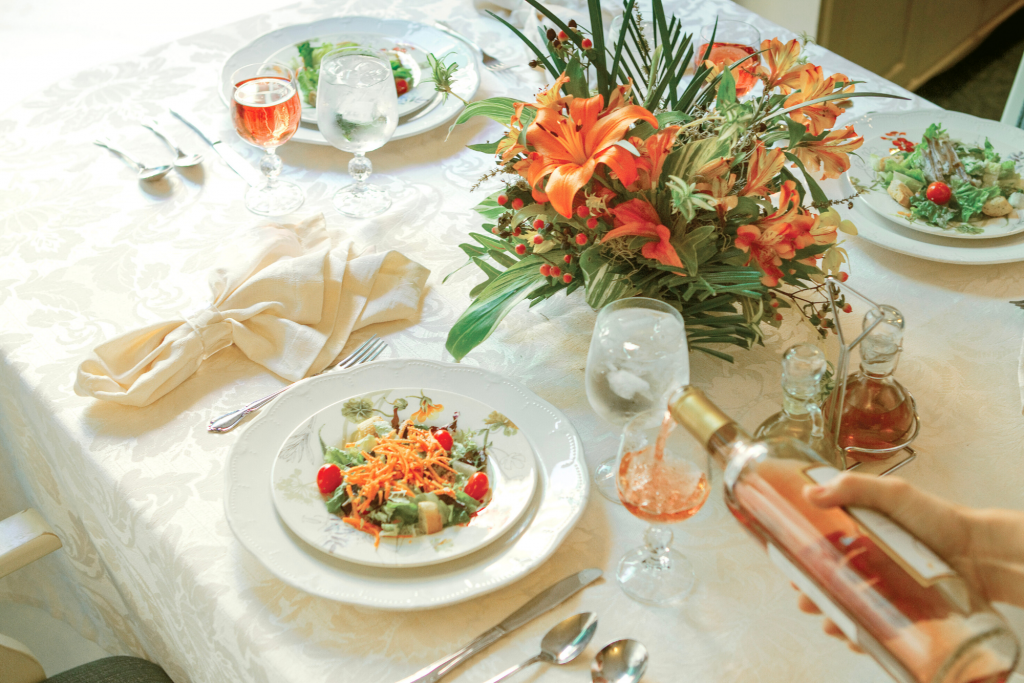 There are a number of delicious dining options at The Glenview. Enjoy formal dining in our fine dining room or casual meals in our lounge at The Glenview. Our restaurant-style dining venues feature menus created by our talented Executive Chef David Chidsey. He has 26 years of culinary experience crafting sophisticated dishes and traditional comfort foods with fresh flavors and wholesome, seasonal ingredients.
Our full-time Pastry Chef, Ashley Yadeski, specializes in made-from-scratch pastries, cakes, pies, custards, and other treats. If you like baked goods, you're sure to love her signature desserts such as chocolate mousse and whiskey Bundt cakes.
Prefer to dine at home or enjoy a picnic poolside or on the beach? You can order your meal to go or have it delivered to your home for just $2. Our residents love this option because it means they can spend more time enjoying the moment with family or friends.
For special occasions, our private dining room is sure to impress your guests. Our staff decorates the room and prepares the food to your exacting specifications. You can also add live music for an extra special touch. Recently, the dining room was transformed. It was such a fun celebration made all the more special due to the hardworking dining staff.
Beyond delicious meals and flexible dining options, as a Blue Zones Certified Community, the food at The Glenview plays an important part in the overall wellness experience of our residents.
What is a Blue Zones Certified Community?
The secrets of living longer, better lives are all around us, according to Blue Zones founder Dan Buettner. Working with National Geographic and scientists around the world, Buettner discovered several factors, including a positive outlook, healthy eating, natural exercise, and close-knit friendships, which can add years to our life. Using the lessons learned, Buettner's Blue Zones Project works with communities to create initiatives that make healthy choices easier for everyone.
In 2014, Naples, Florida along with Collier County and South Lee County began taking steps to become a large-scale Blue Zones Community. In 2018, The Glenview earned Blue Zones Certification, a designation that indicates that our community helps residents apply the Power 9®, the nine secrets of longevity.
At The Glenview, residents enjoy easy access to a wide variety of social opportunities, lifelong learning programs, and life-enhancing amenities, from cultural events and volunteer activities to fitness classes, a swimming pool, and a private beach. Our gourmet menu includes Blue Zone longevity foods such as vibrant salads, fresh fruits, light soups, and heart-healthy and low-sodium entrees.
Hungry for More?
Let's eat! For a taste of The Glenview, call us today at (888) 581-8105. We'll gladly schedule a tour and a complimentary lunch reservation for you and a guest.